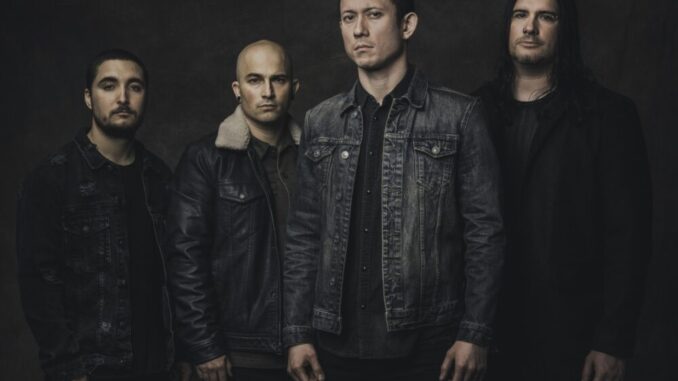 Trivium Announce November 2021 UK Tour
The kings of live streaming, TRIVIUM have announced their return to UK stages in November 2021. Following the recent reveal of their European dates, the band are pleased to confirm that the tour will kick off in the UK. They will be joined by Heaven Shall Burn, TesseracT, and Fit For An Autopsy.
Tickets will be available via an O2 pre-sale from 4pm Monday 7th December and a Gigs In Scotland/Live Nation pre-sale from 4pm Tuesday 8th December, with the general on sale beginning 4pm Wednesday 9th December. You can also order tickets from all usual box offices.
Dates are:
Thu 11th Nov - GLASGOW O2 Academy (tickets)
Fri 12th Nov - BIRMINGHAM O2 Academy (tickets)
Sat 13th Nov - MANCHESTER Victoria Warehouse (tickets)
Sun 14th Nov - LONDON O2 Academy Brixton (tickets)
Trivium released their ninth album 'What The Dead Men Say' to global critical and fan acclaim amidst lockdown in April 2020 and have continued to lead the way for streaming performances since. Trivium declare, "It is an honour to be touring with Heaven Shall Burn, TesseracT, and Fit For An Autopsy. HSB was one of Trivium's earliest introductions to Hardcore/Metalcore mixed with Melodic Death and Death Metal; with very important lyrics that dealt with society and the world as a whole. HSB and Trivium started off on the same record label back in the early 2000's. FFAA are some of our best friends on the planet and one of our favourite bands; and TesseracT is a band we've been dreaming of touring with. THIS is the tour to bring back touring in Europe and the UK!"
Heaven Shall Burn released double album 'Of Truth And Sacrifice' in March, which crashed into the German charts at #1. 2021 marks the group's 25th anniversary. Guitarist Mark Weichert says, "There has been a strong and special connection between Trivium and Heaven Shall Burn since the earliest days. When we met Trivium for the first time, they were very young but already highly talented youngsters, today they're a global power of metal. Over the years Heaven Shall Burn and Trivium destroyed small clubs and demolished big arenas together, we had great times together in both Saalfeld and Sydney. We´re proud and touched, that our common history is now being continued and we finally tour Europe with the guys again."
TesseracT recently announced a live stream performance for December 12th, perhaps the perfect chance to get familiar with the band if you aren't already. Vocalist Dan Tompkins comments, "We're thrilled to be on such a great tour. It's awesome to be playing with such great and hard working bands; we'll make the tour a real success. I'm sure we're all going to have a lot of fun! We'll be playing new material and taking our show live again is something we're very excited about."
Fit For An Autopsy shared a standalone new song this April, titled 'Fear Tomorrow'. Hear it here. The band state, ""There's no better place to mark our return to touring than the UK! The last few times we played the UK we had some of the best shows of our career, and our last headliner at Underworld is still by far one of the most insane shows we have done as a band. We were all very disappointed to miss UK Tech Fest too, so these dates are definitely something to look forward to for us. We seriously can't wait, you don't want to miss this one."