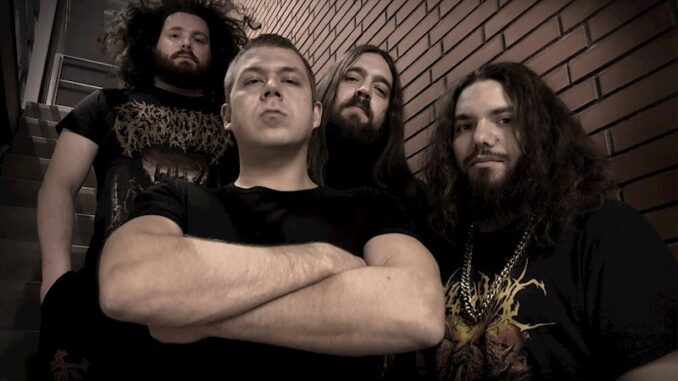 Album Review: Korpse - Insufferable Violence
Reviewed by CL Claesson
Heavy. Heavier. Korpse.
There is no question as to whether Korpse is producing apex aural brutality. The Dutch slamming death metal quartet is once again showcasing unhinged ferocity without compromise and this time they have outdone themselves.
Founded in 2013, Korpse has rapidly established themselves as slam heavyweights around the world, ultimately becoming somewhat of a household name… in brutal death metal homes, that is. Following up their 2016 sophomore release 'Unethical', 'Insufferable Violence' marks Korpse's third full-length album and the mission statement for this album seems to have been to turn the listener into dust.
Korpse is no-nonsense. Without incorporating obscure surgical terms and overly perverted imagery they manage to produce something truly horrifying. Already in the opening track 'PTSD', the band is setting the scene, both musically and thematically, for what's to come. Unsettling and depraved soundbites are a classic weapon in any slam arsenal but the desperation and display of the real horrors of life as portrayed by the voice in the clip results in a rather uncomfortable listen.
With a crystal clear production, Korpse takes the listener by the throat and force feeds crushing slams, pungent grooves and relentless technical riffing at breakneck speed. Vocalist Sven van Dijk has become one of my all-time favourite death metal grunters and he does not disappoint on this album. It's a masterclass in inhuman gutturals and face melting lows, demanding your full attention throughout the 38 minute battery that is 'Insufferable Violence'.
Having already teased with heavy beatdown qualities on 'Unethical', Korpse continues to stay on brand with incorporating related genres which keeps the 10-track assault even more interesting. Is it a slam record? Yes. But the technical death metal influences, mixed with their signature style of death metal and pulverizing beatdowns is even more prominent on this record. Songs like 'A Final Lesson' and 'Callousness' and of course the title track explore the full range of genres on this buffet of brutality.
Standout track for me is 'Molestation Condonation'. In part because the last bass bomb reminds me of the utterly disgusting drop in 'Cleaning the Aftermath' (at 3:31 in the song, check it out if you haven't already!) on 'Unethical' but also because the orchestration of the aforementioned genres is immaculate. It's meatgrinder madness, but with finesse.
Korpse is a relentless murderous machine which eradicates everything in their path and 'Insufferable Violence' proves they are a top-tier band with unwavering energy and force. This album is insufferable violence… in the best way possible. Out via Unique Leader Records on 26th Feburary.