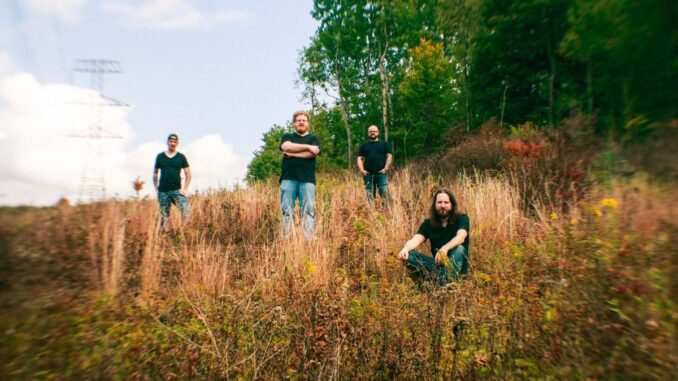 Album Review: Jakethehawk - Hinterlands
Reviewed by Gareth Pugh
This is my first encounter with Jakethehawk, a four piece from Pittsburgh, Pennsylvania. The band call themselves "Appalachian Desert Rock" as it represents their sound a little bit better than the standard 'Desert Rock' named after the Palm Desert scene from the '90s. They could also easily be placed under Stoner Rock, if you wanted a slightly more generic tag for them.
'Hinterland' is the band's second full length release, and third if you count the 'Year of the Hawk' E.P., and since 2018's 'To Build a Fire' the band has expanded its membership to four with the addition of Josh Emery on guitars and occasional vocals. He joins long term members John Huxley (vocals and guitars) and Jordan and Justin Lombre, (drums and bass/vocals respectively). The addition of Emery was a decision the other members deemed essential, not only to thicken their live sound but also to add to the studio dynamics.
Comprising six tracks, each around the 6-minute mark, the whole album is around 40 minutes long, and is probably best listened to as a whole. The songs all have that heavy, yet almost laid-back edge to them, with plenty of acoustic folky feeling to them in places. Opener 'Counting' sets the scene with a cool psychedelic riff, and dynamically contrasting quiet verses. 'Ochre and Umber' starts with a cool almost Tony Iommi like riff but think Black Sabbath with a big dose of relaxants! 'Intrazone Mantra' is the sludgeist track on offer, with its massive chords and open-ended structure and harsher vocals. 'Still Life' is the centre stone that the whole album is pivoted on, huge hooks and a mostly acoustic lead arrangement, highlighting the band's melodic side. My personal favourite is the album's shortest song 'Uncanny Valley', a slightly looser feel and the best use of tempo, the second half especially sees the members almost jamming at a faster pace, which adds a nice new dynamic into the mix. Closer 'June' is a real epic stoner piece, twisting leads skip between the enormous riffs, while little acoustic flourishes contrast against the heaviness.
This is a very enjoyable album, and if you like bands like Kyuss, Porcupine Tree, or even a bit of Opeth, then this might well be worth checking out. The production is clear, the guitars have a brightness in the acoustics, yet also a nice weighty groove, in the heavier parts. My only very slight gripe would be that it's possibly a bit samey throughout, with only really 'Uncanny Valley' seeing the band branch out somewhat.