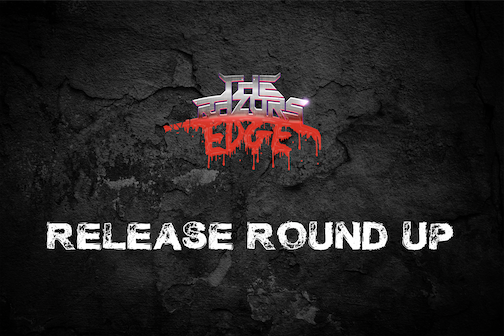 Release Round Up - February 19th, 2021
Every Friday there is a tidal wave of new music released unto the world. Whilst we try to cover as much as possible here at The Razor's Edge, it's not always possible to review everything. So each week on a Friday we'll round up some of the best new music available, some we've reviewed, some we haven't, but all worth checking out!
Theres a lot of new heavy music hitting the airwaves this week, everything from black metal, death metal, gothic metal, Stoner rock, doom, thrash metal and even some of your traditional heavy fuckin' metal!
Here's what we think you should check out today!
Ricky Warwick, well knows across three decades for his time in The Almighty, Thin Lizzy and Black Star Riders releases his first solo album six years today!
"You will be caressed by Ricky's warm relaxed vocal delivery in the same way you will have been during his other work."
You can check out our full review of his album here and check out our interview with the man himself here!
Joining Ricky in releasing a solo album today is his former writing partner is Black Star Riders, Damon Johnson. What are the odd's both of them release solo albums on the same day? Damon Johnson & The Get Ready release 'Battle Lessons' which is a stunning collection of nine original songs. From the insanely infectious melodies of album opener and first single 'Battle Lessons' to the groove riffing of 'Shadow Country'. You can watch the video for the albums title track below!
Earlier in the week, on Monday, This Is Turin dropped a brutal slab of death metal with their three track E.P. T.U.R.I.N.
"Jagged riffs and staccato rhythms batter you in the early stages, discordant melodies add to the mayhem, chords dragging like some primordial beast, before everything slows to a super-heavy crawl, then the drums ramp up into a pulverising end, the bass drums especially kicking you in the guts."
You can view our full review of this punisher here.
If you are in the market for a dark, gloomy, brutal album, then the return of Lake of Tears after an absence of severals years could be just for you.
"This is a very dark, bleak, gloomy and atmospheric album which is perfectly suited for the times we currently live in. The album itself is fairly varied in terms of song styles and soundscapes with a heady mix of progressive metal and gothic rock."
You can read our full review here, where you can also check out the video for 'In Wait and In Worries'.
For a blast of brutalism, then this week's release of choice is 'A Fate Worse Than Death' from The Impaler.
"an album that wants to make you headbang or smash you fist though your dry wall."
If that sounds up your street, then this comes out today! Check out our review here.
Hailing from Minnesota and Colorado, blackened death metal outfit Suffering Hour unleash a snarling beast in 'The Cyclic Reckoning' today.
"Sonic soundscapes collide with the cosmic blackened death, enveloping the listener with extremes, swirling icy tendrils, and contrasting blasts of fiery intensity which singes and burns. Chilling compositions combine rawness with ballistic level drumming and shimmering walls of constant riffing."
You can read more of our thoughts from our album review here.
Rounding out the rest of this weeks death metal releases, Upon The Altar drop their blackened offering 'Absid Ab Ordine Luminis'. Ephemerald release 'Between The Glimpses of Hope' and Insect Inside unleash the beastly 'The First Shining Of New Genus'. Malice Divine have a self titled release out and Saprobiontic release 'Apocalyptic Retribution'.
There's a lot of new progressive music out this week too, and we start this segment of the round up with the new release from Lizzard, Eroded.
"'Eroded' is intelligent, well-paced and not overindulgent. Elwell doesn't go for the spectacular, ensuring that the band is solidly anchored and driven."
We reviewed it earlier this week, you can see our thoughts here.
Else where on the prog scene, Kaupe release the muscular, progressive, colourful 'Cognitive Dissonance'. Mastord release To Whom Bow Even The Trees' and Jakethehawk bring stoner elements into their prog groove with ' Hinterlands'.
Swedish heavy metal titans Eternal Fear release a new E.P. this week. It is a blistering beast that has been streaming on our site since Wednesday! You can check out the video for 'Dream Stealer' below!
One man outfit Maudiir drops a writhing slab of blackened thrash with 'La Part du Diable'.
"A combination of black and thrash metal with more than a dash of 80s metal in the mix, this is a vibrant and powerful E.P. In fact, it's one of the most impressive pieces of work I've heard for ages."
Sound interesting? Out full review is here.
For all you black metal fans, there are a few releases of note. Qwällen release 'Unohdan Sinut' and Spire drop the wonderfully titled 'Temple of Khronis'. Whilst Endoma blend black with death in their album 'Immemorial Existence' and Szary Wilk release 'Wrath'.
And to round things out there is grind from Socioclast, melodic metal from both Marble and Final Void and more modern metal from Exsom. Dopelord release stone rock magic in 'Reality Dagger', Temperance have an E.P. out in 'Melodies of Green and Blue' and to round out the week there is old school thrash from Detritus!
And thats just the tip of the iceberg! There is so much new music out today for you to get your groove on to. Enjoy it all!