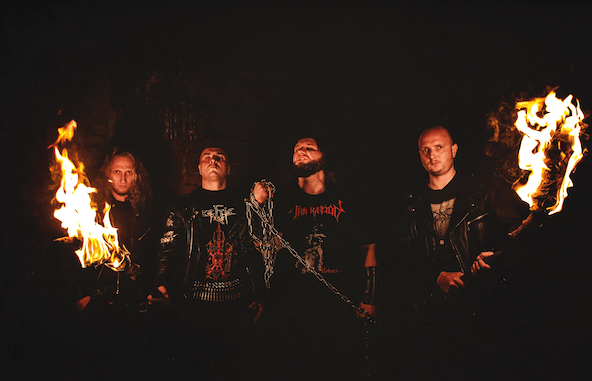 Album Review: Witchfuck – Black Blood Baptism
Reviewed by CJ Claesson
Historically, bands named after other bands' songs and albums are wicked. Machine Head, Judas Priest, Suffocation, Overkill… the list can go on and on (and just because this is a metal review, I specifically left Roxette out). Regarding the band at hand - Witchfuck - I'll take the liberty to go out on a rather sturdy limb and suggest they took their name from the track 'Witchfuck' off of the 1994 self-titled cardinal offering by Sweden's Nifelheim. Great band, excellent album and a choice tune indeed, which immediately raises my expectations on the band as a whole and the album I have before me. The tracklist conveys the same vibes as their name and it doesn't take long before my call for blackened thrash 'n' roll is being heard.
Poland's Witchfuck emerged from the moldy tombs of infernal desolation in 2017 and has since then released an EP and three splits with bands such as Necrosadist and Culto Negro. Released through the polish independent extreme metal label Godz Ov War, 'Black Blood Baptism' is the band's first full-length sacrifice to the horned archangel.
Going back to the first EP 'Disgusting Rock'n'Roll', which sonically is rather primitive (not necessarily a bad thing within this genre), it is clear that the band has perfected their sound over time. On 'Black Blood Baptism' the raw, primitive essence is very much there, but it's increasingly refined and can be compared to acts like Rebel Extravaganza-era Satyricon, Celtic Frost, F.O.A.D-era Darkthrone, Hellhammer and of course aforementioned Nifelheim. Not a bad table to sit at! Ticking in at just over 37 minutes 'Black Blood Baptism' checks all the boxes for a well put together thrashy blackened metal album. Filthy blast beats (especially dirty on 'Sabbath of Unholy Lust'), lyrics packed to the brim with evil, attention-grabbing hooks and anguished vocals - it's safe to say this album has it all. And it's not just a forceful 30 minute pounding. Songs like 'The Horned Archangel', 'Pentagram In Fire' and 'Into The Fathomless' present moments of unholy finesse, and the electronic thunder soundscape 'The Pagan Storm' offers a welcomed moment of tranquility.
To conclude the album, the band decided to take on 'Pure Evil and Hate' by fellow countrymen and extreme metal giants Behemoth off of the 1995 release 'And the Forests Dream Eternally'. That was clearly no match for Witchfuck, who deliver a gleaming cover which ties in beautifully with the rest of the album.
Witchfuck is the real deal. That's definitely evident considering the music guitarist "BeerTerror" (yup, you read that right!) et al. produces, but also obvious due to their complete apathy towards having a social media presence. If that's a measure to stay underground or just a general disinterest of the web, I will never know - but it is inspiring and very metal indeed. With an album like 'Black Blood Baptism' under their bullet belts, I can see Witchfuck on the bill of any major metal festival around the globe. Bring out the skulls, chains, crosses and play this record loud - if you can find it!
'Black Blood Baptism' out via Godz Ov War March 25th