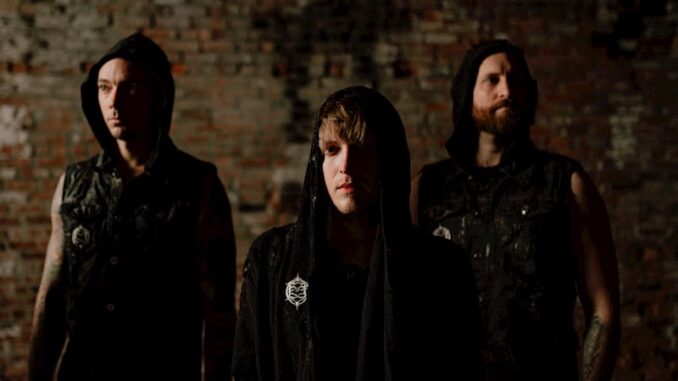 Album Review: Enterprise Earth - The Chosen
Reviewed by Daniel Phipps
Since their formation a mere 7 years ago the Spokane act Enterprise Earth has certainly had a productive start to their musical career. With 3 full lengths behind them already combined with a massive touring history alongside countless big name underground acts they are set to release their 4th full length entitled The Chosen in January.
The Chosen has a sound reminiscent of the so called "New Wave of American Heavy Metal" and deathcore sound from the early to mid 2000's. Enterprise Earth cram piles of heavy and groove laden riffs, which have quite a distinctive Lamb of God sound along with down tempo breakdowns similar to an act like The Acacia Strain. The problem is these riffs themselves give you very little to get excited about, the song structure is severely lacking at the times and when Enterprise Earth actually begins to build any form of momentum during the tracks they are ruined by the inclusion of breakdowns which just seem placed at points for the sake of it and just lack substance.
Vocally, Enterprise Earth includes a mixture of both high and lower vocal techniques, along with electing to use clean vocals at times during multiple tracks. In general I really don't like the mixture of clean and aggressive vocals and The Chosen is not an exception to that rule.
As the record progresses Enterprise Earth attempts to bring in more of a death metal sound and approach with their song writing. Tracks like "You Couldn't Save Me", breaks away from the groove riffs and brings more of a Black Dahlia Murder sound to it in places. "They Have No Honor" also has this similar musical approach along with a very solid thrash metal style section. The issue here is that Enterprise Earth doesn't build upon these sections through the entirety of these tracks which is unfortunate. The main plus point throughout The Chosen is some nice technical sections within it's songwriting and the lead work displayed throughout this record is very nicely composed and really well performed but unfortunately the bulk of what surrounds those cool sections is second rate metalcore riffs & lifeless breakdowns.
Overall based on what the claims for this record are, it misses every mark. Enterprise Earth does not bring "authentic death metal precision" as where it does have some death metal elements it's definitely not a death metal album. The Chosen has some very well written parts throughout as highlighted above but when you compress those parts within a very unimaginative core foundation it's hard to look past the negative aspects of this record.