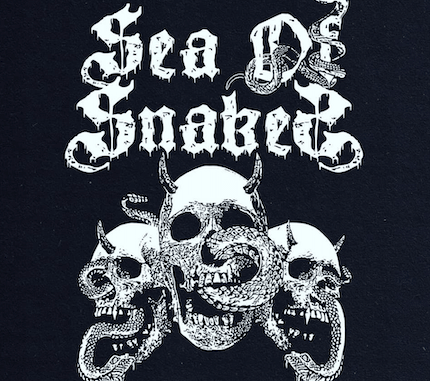 E.P. Review: Sea of Snakes - World on Fire
Reviewed by Paul Hutchings
Fuzzy, riff-riddled, and full of gritty anthems. That sums up this five-track debut E.P. from seasoned Californian outfit Sea of Snakes.
Drawing their influences from bands across a wide range, think Corrosion Of Conformity through to Motörhead, Sabbath to Down and you should get the message. Thick, sludgy riffs, a bash and smash rhythm section and snarling, gravel-coated vocals of Tracey Steiger, it's all rolled-up in a groove-drenched melting pot that thunders and roars.
There's no shortage of smoking guitar solos, peeling loops and an animalistic attitude. Let the Fire Burn is the ideal raucous opener, whilst there is filthy sludge-soaked metal on the punchy Drink You Teeth that closes the E.P. Sandwiched in between, a fierce and rampant triple bill which continue the fire of the first song.
Gnarly, feisty, and full-on, Sea of Snakes aren't taking any prisoners. The world may be on fire; these guys are merely adding fuel to the inferno.