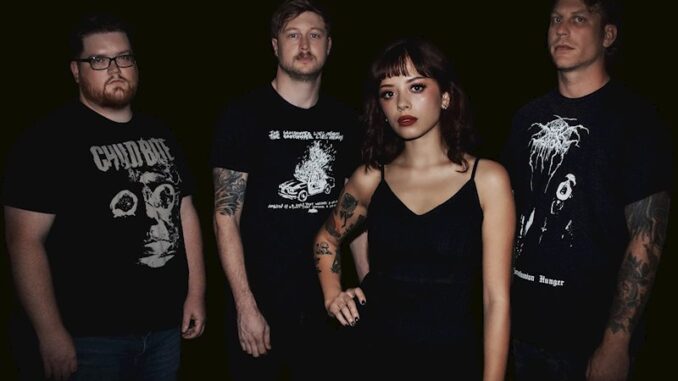 Album Review: Capra - In Transmission
Reviewed by Dan Barnes
Formed in Lafayette, Louisiana in 2016, In Transmission is the debut album from hardcore/ punk/ metal hybrid, Capra. Recorded before the lockdown, they cannot use the pandemic as the cause of their collective ire. For In Transmission is a fearsomely angry record from the first note of Hollow Doll to the closing moments of the fantastically-named Samuraiah Carey.
The soundscape intro of [Exordium] acts as a warning for all audio travellers to proceed with caution, for within the remaining ten songs on In Transmission you will discover personal pain and a sense of growing dissatisfaction at the seeming injustices of the world.
Hollow Doll wastes no time in crashing in with pounding drums and an ungodly vocal, already scratched bare, as though having been telling their story a hundred times already. The unrelenting guitars fool you with the occasional flourish, but this is akin to pauses from your torturer before they begin again.
In Transmission is an angry album from the start and does not afford you the grace of respite at any point during it's thirty-minute run-time. But Capra's use of twisted, aggressive riffs and the way they fold and play with genre conventions makes for an engrossing, though exhausting, listen every time.
The unrelenting Medusa and the stabbing guitar-work of Paper Tongues serve to punch you in the proverbial-face, while, in comparison, Torture Ship and The Lotus Preacher come over as almost commercial.
Capra aren't afraid to mix things up on the album, though they do not seem to believe in providing any reprieve from the barrage. There are hooks-aplenty scattered across In Transmission: The Lotus Preacher is almost danceable at times and even Medusa features a hook-laden mid-section. The band slow things down at times, reducing moments in Torture Ship and Mutt to heavy, stomping passages, driven by a prominent bass. There's also a little bit of groove apparent in Red Guillotine.
2021 definitely seems to be the year the ladies are laying down a marker. A few weeks ago I reviewed Pupil Slicer's Mirrors record, on which Kate Davies scarred the B'Jesus out of everyone with her awesome vocal delivery and Capra's Crow Lotus seems to be cut from the very same cloth. She howls and screeches like a banshee when needed yet moderates and sings cleaner and clearer when required to an equally unsettling effect.
In Transmission has been a long time in gestation and it's birth has been a drawn out affair, but the ferocious, snarling beast that has emerged is a joy to behold. By all accounts Capra's pandemic creativity could result in an EP later in the year; my fingers are well and truly crossed for that.