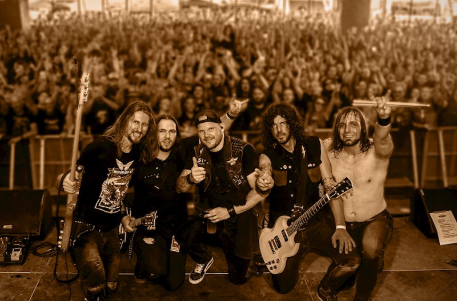 Album Review: Motorjesus - Hellbreaker
Reviewed by Richard Oliver
Hellbreaker is the new studio album from German pedal to the metal rockers Motorjesus. The five piece formed way back in 1992 as The Shitheadz with their debut album Dirty Pounding Gasoline dropping in 2004. Due to censorship issues a name change to Motorjesus followed in 2006 and the band have released a stream of albums including a live release last year with Hellbreaker being the seventh album from the band.
Motorjesus are described as a band that "simply love Rock'n'Roll and celebrate the music" and that can certainly be felt throughout Hellbreaker. It is a contemporary hard rocking sound but the influences of classic hard rock and heavy metal permeates throughout. There is a nice balance between hard rocking riffage, driving rhythm and huge melodic hooks. The twin guitar attack of Andy Peters and Patrick Wassenberg has hints of Iron Maiden whilst the rhythmic pummelling of bassist Dominik Kwansy and drummer Adam Borosch is straight out of the Motorhead book of rock and roll badassery and this is all carried by the hard rocking swagger of Chris "Howling" Birx on vocals who has a voice that is equally gritty and melodic. The songs themselves are just an exercise in pure rock fury from catchy numbers such as the hooky Battlezone and the title track to groovy numbers such as Beyond The Grave and Black Hole Overload to speedy shit kickers such as Car Wars and Back To The Bullet.
Hellbreaker is a cracking album. It also sounds fantastic thanks to a fantastic mix and mastering by the mighty Dan Swanö. It balances the hard rock and heavy metal elements perfectly and is an album that will appeal equally to both the hard rock and metal audiences. It doesn't aim to break any molds and is simply a great album of rocking anthems. These are the kind of fist pumping anthemic tunes that were meant for the stage and I hope that Motorjesus get the opportunity to crank out these hard rocking tunes to a sweaty , beer-soaked audience very soon.