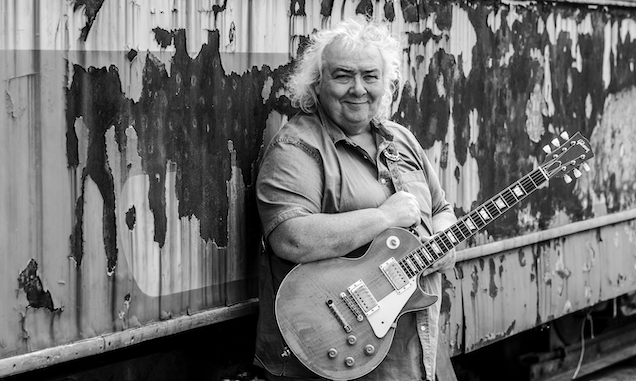 Album Review: Bernie Marsden - Trios
Reviewed by Paul Hutchings
You may recall in April we reviewed the lead single from guitar legend Bernie Marsden's latest album 'Trios' in April when he put out his take on 'Black Cat Moan' the Don Nix song released in 1973 by rock supergroup and power trio, Beck, Bogert, Appice. The latest release in his 'inspirations' series, this release sees the blues guitarist cover some deeper cuts from some of the classic power trios in rock. Sadly, no Rush, Motörhead or Budgie for those of us hoping for something a little on the heavier side, but plenty of interesting music which Marsden adds his own unique take on.
This album does allow the harder rocking side of Marsden come to the fore, with some sweet work both with guitar and vocally throughout. His workout on 'Never in my Life' would have made Leslie West smile, for it is a fine version of the Mountain classic, and the addition of the instantly recognisable riff from 'Nantucket Sleighride' is a beauty of an addition. Just listening to it made me dig out my best of Mountain album for a listen! Marsden also plays the vocals superbly, bringing his own style rather than trying to imitate the now-departed Mountain frontman.
There's a double Hendrix trip here, unsurprising given the man's influence on so many guitarists of Marsden's era. First up is 'Drifting' which is one of Hendrix's most delicate songs. Marsden gives this a beautiful touch and feel, making it his own whilst ensuring the integrity of the original. In contrast, 'Spanish Castle Magic' sees Marsden ripping out the heaviness which is a feature of the original and he also manages to maintain the trippy feel which is essential.
Robin Trower is a much-loved guitarist who is deservedly included here, Marsden bringing a great version of 'The Rolling Stoned' to the table. Once more Marsden brings his own flicks and tricks to give the song his own flavour, and it works particularly well here. The underrated James Gang deservedly get the full works with a cracking version of 'Funk 49'.
In all these songs Marsden demonstrates his respect, passion, and pride in playing some legendary songs. From Fleetwood Mac to Cream, there are some fabulous versions of songs that maybe some of his fanbase may not be familiar with and for those who are dedicated followers of this well-loved guitarist, 'Trios' is a joy to listen to.