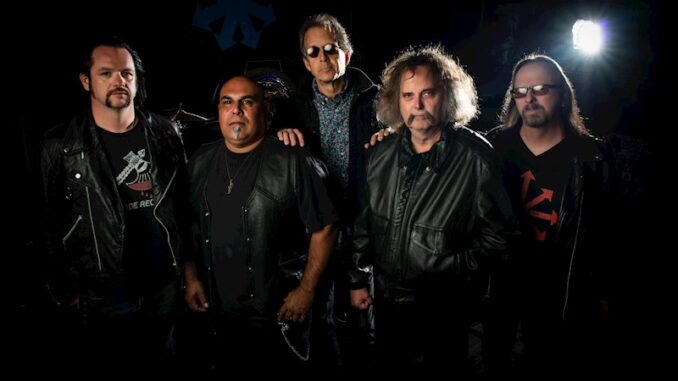 E.P. Review: Cirith Ungol - Half Past Human
Reviewed by Jon Wigg
When Cirith Ungol reformed to headline the 2016 Frost and Fire II Festival in their hometown of Ventura, California, the fires stirred again within Mount Doom/Traditional Heavy Metal. The classic metallers had been away for over 24 years and before this, there didn't seem to be much chance of a resurrection.
But the success of this appearance and the addition of Night Demon frontman Jarvis Leatherby on bass, really stoked those flames and Cirith Ungol really picked up some momentum. At a time when old-school heavy metal was making a comeback, we really needed one of the titans of the 80's back - and here they came.
A double live album of classics 'I'm Alive' followed and finally in 2020, new material in the form of the superb 'Forever Black'. Beautifully crafted and performed; this was in mine and many others albums of the year lists. Cruelly the pandemic has stalled many bands moving into 2021, but happily Cirith Ungol have produced a four track E.P. of "exhumed songs written in a bygone era" but never previously released.
Tim Baker has one of the most distinctive voices in music. For me it fits perfectly into the style of classic heavy doom-tinged metal that Ungol play and he provides an atmosphere in the songs that makes the band unique. 'Half Past Human' opens with biker themed 'Route 666'. The engines roar and the solos soar. Cirith Ungol are very very good at what they do and this is a perfect example. Head-nodding songs that evoke times past performed with passion and love.
For a band named after an area in The Lord of the Rings, which translates to 'Spider's Pass' a song about the demon in the form of a spider that resides there is an obvious one. 'Shelob's Lair' is a fantastic homage to the tale, with a slow start but then picks up pace and transforms the listener both to Mordor and the 1980's. 'Brutish Manchild' is a short sharp track that bangs along really well and is fine although feels like the weakest track here, certainly sandwiched between 'Shalob's Lair' and the epic closer. The laconic guitars that open 'Half Past Human' are perfectly complemented by Baker's wails. Some lovely proggy passages drive the song forwards towards the crescendo of the last four minutes, which are filled with the trademark sound of Cirith Ungol - epic guitar work from Greg Lindstrom and Jimmy Barraza and drumming from Robert Garven.
Cirith Ungol proclaimed their return with 'Forever Black' in 2020 and this E.P. of previously unrecorded tracks provides a very large exclamation point.