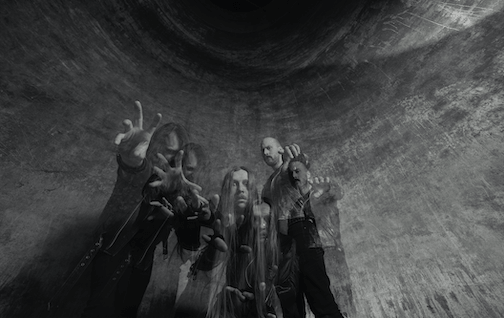 Album Review: Ghastly - Mercurial Passages
Reviewed by Richard Oliver
Mercurial Passages is the new album from Finnish death mongers Ghastly and is being released on the ever reliable source of underground death metal nastiness 20 Buck Spin. Ghastly are a three piece from Tampere who formed in 2011. Their first album Carrion Of Time materialised in 2015 followed by Death Velour in 2018 with Mercurial Passages being the third full length from the band.
Ghastly are one of a legion of bands keeping the old school death metal sound alive and well but Ghastly take that death metal sound and incorporate influences from doom metal, black metal and dark psychedelia. Songs such as Sea Of Light and Perdition shift gears between death metal fury, trance inducing doom and blackened tremolo riffing combining together to create nightmarish sounds that transcend the usual gore and guts approach to death metal. The best example is the 8-minute plus Dawnless Dreams which is a barbaric yet psychedelic trip from start to finish and easily the strongest song on the album. All the instruments are performed by Ian J. D'Waters who brings forth a barrage of riffs, chaotic drumming and some fairly inaudible bass whilst the hellish vocals are provided by the duo of Gassy Sam and Johnny Urnripper.
Mercurial Passages is an interesting piece of death metal which is raw and uncompromising whilst extremely rich and layered. This is far more thinking man's death metal rather than bludgeoning caveman riffs. It can get lost in its own ambition at times but every-time there is a passage of a song that starts getting a bit out there you are brought back to earth by some killer death metal riffing. For those who want something a bit different than the usual gore and horror of death metal then this album comes recommended.