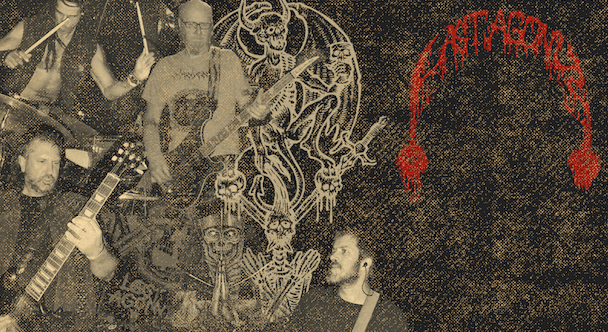 Album Review: Last Agony - The Imminent Slaughter
Reviewed by Dan Barnes
After a couple of demos and a self-titled 7" Toronto-based bruisers, Last Agony unleash their debut album on an unsuspecting world. Dispelling completely the national identity of Canadians being polite and inoffensive, The Imminent Slaughter is eighteen minutes of utter ferocity and devastation, a heavy boot to the mid-rift to leave you doubled over and gasping for breath.
Seemingly custom-made for those of us of a certain age and with a certain musical aesthetic, the album begins with a soundbite from Hellraiser before crashing into groove of fuzzed guitar and guttural vocals. It doesn't take too long into the title track that you realise The Imminent Slaughter is not only a brutally heavy selection of tunes, but it is also a love-letter of sorts to the heavy music of the 1980s and 1990s.
Hacked Pieces, Maniac and Unbridled Lunacy were never going to be the most subtle of songs, but each are guaranteed floor-fillers, tuned to perfection to cause maximum carnage. Maniac is built around a classic thrash riff, with every cymbal hit acting like a blast of adrenaline, whereas Hacked Pieces is ninety-seconds of the most glorious chaos.
Channelling grindcore acts like Napalm Death and Extreme Noise Terror with the crust punk of Electro Hippies and Anti Cimex, Last Agony have delivered a primal musical assault of rapid-fire guitar, caustic vocals and insane brutality. Diabolism's uncompromising and unforgiving ruthlessness is matched only by Closing Curtain's insane weight and speed. Yet, both are crafted around memorable hooks that, although representative of barrages of noise, lodge themselves into the brain and won't let go.
There is the occasional respite from the blitzkrieg. The title track's breakdown into a doom-laden groove is notable and the mid-point's stock-taking Vile Egotistical Conduct (Demented Ego part II) is more measured than anything around it, yet still possesses a hulking riff as it unfurls itself as a study in old-school aggression.
Short, punchy, chaotic and filled with memorable aggression. The Imminent Slaughter is definitely worth seeking out.