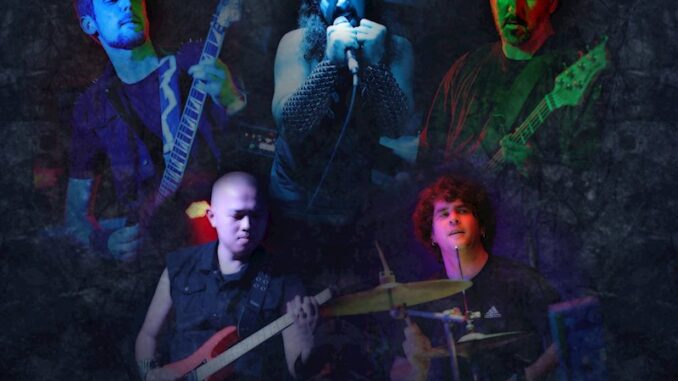 Album Review: Nightshadow - Strike Them Dead
Reviewed by Paul Hutchings
Although their formation roots go back nearly a decade, it was only in July 2016 that San Diego's Nightshadow played their first live show. They followed that with a self-titled EP in 2017 before finally getting to this point; their debut long-player. Founder member and guitarist Nick Harrington has united with singer Brian Dell, fellow six stringer Danny Fang and rhythm section Chris Bader (bass) and drummer Sean Woodman.
Unfortunately, whilst the intention is there, along with the usual guitar hero twiddly flashes, the frenetic pace, and the intense drumming, I can't say that they are anywhere near the same competition as the likes of Hammerfall, Helloween or Stratovarius. To use a football analogy if Nightshadow were a team in the English pyramid, then they would be fighting for relegation from League Two.
One of the key factors in any album is the vocalist, and I'm sorry that Dell doesn't do anything for me for large parts on this record. His slightly out of key tone on opening track 'Legends' is a wobbly start to the album and the roaring screams on 'Witch Queen' and 'Ripper' don't make it any better. These three tracks are the introduction to 'Strike Them Dead', and whilst they are all fiery, fast, and furious songs, there isn't a memorable hook between them. 'Witch Queen' is particularly ragged.
'Love & Vengeance' then drops the pace, and the tension completely. It's a ghastly ballad which bands seem unable to resist. The opening couple of minutes sees Dell singing over a single guitar, before the rest of the band kick in with an emotion-soaked section. After that, all hell breaks loose once more as Nightshadow explode into the second part of the track. It's a predictable and uninspiring move.
There are a few decent songs lurking in this 56-minute-long release. 'False Truths' is a battery of speeding riffs, marred only by some truly awful singing which is literally shouting at times. The title track however, races along, the sheer velocity impressive and it's one of the few songs that delivers fully.
I'm not sure what it is that I struggled with on this release. The passion is clearly there, the fire and the fury are present and correct, the guitar work is superb and for the most part, Dell can hold a note well. There is something that just doesn't gel. Perhaps live, Nightshadow are a more impressive outfit. This is an album that isn't the worst release I've ever heard … but there are thousands more that stand head and shoulders above it.