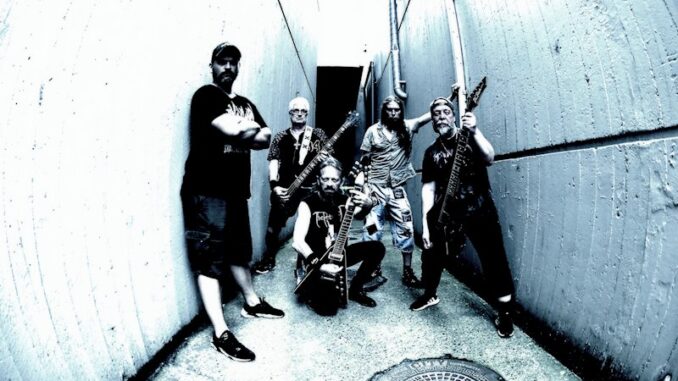 Album Review: Artillery - X
Reviewed by Gareth Pugh
I first came across Artillery back in 1990 with their 3rd album; 'By Inheritance' with its eastern tinged riffs and the unique, almost unhinged vocals of Flemming Rönsdorf, it was and still is a brilliantly written, mature, weighty piece of thrash, it really is a classic of the genre. I immediately went and ordered the 'Fear of Tomorrow' and 'Terror Squad' albums, number one and two respectively from my local record shop, the now sadly defunct 'Rainbow Records'. Both duly arrived a few weeks later, and after my initial shock at the cover of 'Terror Squad' (definitely a contender for worst album cover ever) I found these to be of similar quality, if perhaps a little rougher around the edges, although in different ways. Unfortunately, that was that for a while, in 1991 the band split, Rönsdorf proving to be fairly unreliable when it came to committing fully to touring and general band duties.
In 1992 a few members regrouped with a different vocalist and drummer and recorded the now infamous 4 track 'The Mind Factory' promotional demo, which regrettably didn't come to anything more at the time, but all of the songs from those sessions have now made it onto official releases. However, in 1999, the appropriately titled 'B.A.C.K.' marked the first return of the band, with Flemming back in the fold, although not quite up to the standards of the first three albums, with a few nu-metal influences, it was still a strong release, and it was great to hear new material from the band. However, this again proved to be a short-lived comeback, with the undependable vocalist once more leaving the fold.
Fast forward to 2007, the band reformed but decided that waiting for Rönsdorf was like flogging a dead horse, so recruited instead Søren Adamsen, more known for his vocals with power metal acts Crystal Tears, Twinspirits, etc.Then in 2009 the band dropped a new album, 'When Death Comes', very much in the vein of 'By Inheritance' musically, with those oriental flourishes and chunky riffing, quality song-writing, and although Søren perhaps lacked the uniqueness of his predecessor, his lyrics and vocal contributions were solid, and helped ensure this "comeback" release lived up to their strong legacy.
2011's 'My Blood' followed 2 years later, and whilst being a vigorous album, didn't quite hit the heights of any of its forerunners and was solid and workmanlike, rather than remarkable. Another line-up change occurred between the next release, again in the vocal department, and this time the band took this set-back in its stride, quickly replacing the vacant frontman position with Michael Bastholm Dahl, this guy has a set of pipes to rival any singer in metal, although his style would further push the groups stylistic leanings away from pure thrash, and more over to the power/thrash genre. Album's seven, eight and nine: 'Legions', 'Penalty by Perception' and 'The Face of Fear' respectively, saw the band with a three album run consisting of a stable line-up for the first time in its history, all three albums being professional and competent, with intricate riffs, stellar musicianship and production values second to none, although to these ears, perhaps a bit too clean and polished, almost a bit sterile, and lacking the raw energy of 1980's output, with each album fairly undistinguishable from each other with pretty much interchangeable songs. I realise that makes me sound very critical and ungrateful, and I don't intend sounding so harsh, as it's still great to have the band active, prolific, and releasing quality works.
Alas, this could not continue, as in 2019, catastrophe struck, with the tragic death of Morten Stützer, founding member, guitarist (and original bassist), and chief songwriter. This after a steady decline in his health over the last few years, he had already retired from long term touring, although was still a major contributor to the band. Brother Micheal Stützer, fellow founding member and guitarist, almost felt like quitting but on the insistence of Morten before his untimely death, has thankfully decided to carry on, and the band recruited Morten's live replacement, Kræn Meier, to be the new full-time guitarist, also contributing to the song writing.
And so, we have 'X', the first full release since that terrible news (the band did release a tribute single 'The Last Journey' with both former vocalists; Flemming and Søren contributing, in 2020, see my review here). Following in a similar style as the other post-reboot albums, 'X' sees the band with possibly the strongest production of their entire 40 years, working again with Søren Andersen at Medley Studios in their homeland of Denmark, who has worked on every album since 'When Death Comes'.
An almost trademark eastern tinged melody introduces us to the fast and anthemic 'Devil's Symphony' (the title of which is a throwback to a very old Morten and Michael Stützer pre-Artillery band), with its huge singalong chorus, before a chunkier slower mid-section, the slightly cliched titled 'In Thrash we Trust' does what it says on the tin, and is a real thrasher, yet with a chorus designed for the live show. 'Turn up the Rage' and 'Silver Cross' are a touch slower in places, yet are still quite pacey, and add some extra melody into the mix, both having hooks the size of anchors. 'In your Mind' uses some newer ingredients, a bit of groove, which actually works fairly well, and it's good to see the band try something a bit different and still keep it heavy. 'The Ghost of Me' also tries something a bit different, this time some softer rock balladry, which although is very well done, it will depend if you like bands such as The Scorpions as to whether this is your thing or not. Fear not, the majority of the rest of the album returns to more familiar territory, 'Force of Indifference' is another straight up power/thrasher, again the band really putting their foot down and pushing the speed, with a great bass driven instrumental section. 'Varg i Veum' builds into a slower heavier track, and uses the speed elements a bit more sparingly, but for greater contrast and has an interesting lyrical subject: the expression "varg i veum" –(wolf in a sanctuary, outlaw, persona non grata) has a special meaning in old Norse. 'Mors Ontologica' ("Ontological Death," or "Death of the Knowledge of Being") has a strong metaphysical/philosophical lyrical slant and is quite possibly based on 'A Scanner Darkly' a science fiction novel by Philip K. Dick, while musically again being an up-tempo, riff laden affair. 'Eternal Night' is rapidly becoming my favourite track, a bit of a gem hidden late in the albums track-list, with a very strong riff set and a great vocal arrangement. The last track 'Beggars in Black Suits' uses some off-kilter melodies that I wasn't sure about to begin with, but actually work really well, within the context of the track.
With 'X' the band have come up with a very strong and suitably fetching farewell to their fallen brother Morten, 'X' is certainly the fastest and thrashiest album the band has come up with since the early days, and quality wise their best since 'When Death Comes', on a personal level I'd like a little bit more grit, like their live shows, which would realign their sound with their thrash heritage rather than the more power metal stance of their 21st century material. This is only a very slight criticism, as this is a very powerful, well written and produced album and a really strong continuation of their 40-year, 10 strong album career. Here's to many more years and many more albums.