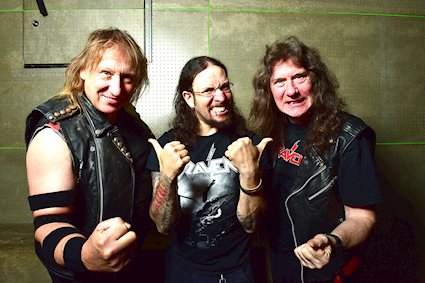 Album Review: Raven - All For One
Reviewed by Paul Hutchings
Of all the NWOBHM bands, Raven were the ones that really should have burst through the net and conquered all before them. Their prototype speed metal was ahead of its time and their first three albums were fantastic, culminating in the fine 'Live at the Inferno' double live album that captured the band at their ferocious best. 1983's 'All for One' saw the band change their style slightly, easing back ever so slightly on the pedal but adding bulk and heft in a muscular manner.
It's unsurprising that this album is now getting the High Roller treatment. Working with producer Michael Wagner who was top of their list because of his work on Accept's 'Breaker' record, the Geordie trio of brothers John and Mark Gallagher and drummer Rob Hunter were also able to coerce Accept frontman Udo Dirkschneider to co-produce and duet on 'Inquisitor' and 'Born to be Wild'.
The result was 'All for One', often viewed as the last of their genuinely great albums after the debut 'Rock Til You Drop' and sophomore 'Wiped Out'. The album opens with the potent combination of 'Take Control' and 'Mind Over Metal', bonafide classics to this day and it's easy to see with this duo why they went down a storm in the US with Metallica supporting them in 1982. John Gallagher's high-pitched vocals are still amazing to listen to today, his piercing screams and diverse range still achievable, as demonstrated on 2020's fine 'Metal City'.
Whilst there are still raw edges, 'All For One' is an album that saw Raven add a daub of polish to their sound. It isn't as fast as those first two albums, but songs like 'Run Silent Run Deep', the first single from the album 'Break the Chain' with its bombastic stomp and the punchy 'Seek and Destroy' all sound as good now as they did in 1983. It's also worth a listen to hear the completely over the top version of Steppenwolf's classic 'Born to Be Wild' which is magical in its completely over the top delivery. There must have been dogs near that studio who were the only ones to hear Dirkschneider and Gallagher's glass shattering screams. The speed of 'Inquisitor' is also worth a listen, with more sewing of those early thrash roots.
Does 'All For One' stand up on its own today? I think it does. 'Metal City' was clear evidence that nearly 50 years after they formed Raven were still relevant. If you heard that and were curious about one of the forefathers of speed and thrash metal, then 'All For One' is as good a place as any to start exploring the back catalogue. Maybe it's finally time to give Raven the credit they never really received.