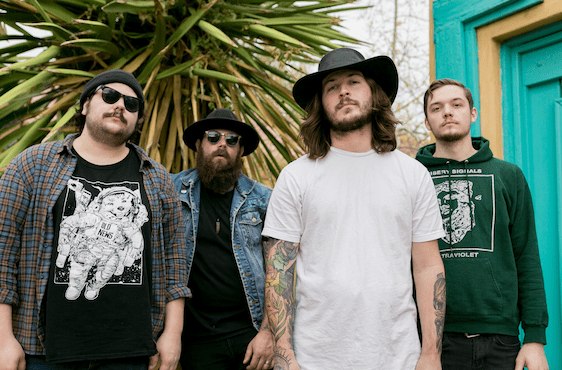 Album Review: Revisionist - The Emptiness of Gravity
Reviewed by Dan Barnes
Following up their 2018 debut, Culling, Wichita's Revisionist land the EP, The Emptiness of Gravity on an unsuspecting public. And in so doing, the four-piece have served up an uncompromisingly honest collection of songs that harken back to the chaotic hardcore and metal of the early 2000s.
Across the half-a-dozen tracks and its twenty-five-minute running time, Revisionist have crafted an unrelentingly honest slice of post-hardcore and managed to balance the chaos and anger alongside a disciplined adherence to their art.
You'll hear some seismic low-end guitar from Joshua Barbee among the fractured rhythms of Deathbed Kings, yet those same polyrhythms contribute to Half Moon's eminently danceable vibe.
For all the EP's melodic disconnect you will find places where Revisionist have laid hook-filled traps; Violence Golden contains more than a few moments which will drag you in and the potent guitar of Panic Burn, hefty and unapologetically abrasive in its delivery, mark this, and Wasteland Dreams, as future floor fillers.
As Panic Burn grinds to its climax and the beatdown takes hold, there is a moment when, his voice strained to its limit, you can almost hear the blood vessels in Eric Martin's eye popping. Here, as elsewhere, the beatdown is built around the near-psychic connection between bassist Max Abood and sticksman Joshua Peavy.
Shockingly, Night Chills gives over almost half its run-time to building a dance-rhythm; an indecipherable voice speaks over what sounds like Blade Runner exhaust flares and a sustained chord. Revisionist crash in with a wall of guitar/ bass/ drum/ vocal, disrupting the ordered chaos of the track. Rather than feeling disjointed, ironically, this intrusion feels justified and necessary.
It's not the standard meat-and-potatoes release and the Kansas quartet have written a record which challenges as much as it entertains. If this is the direction they are intending to take then it should be full speed ahead for the next full length.