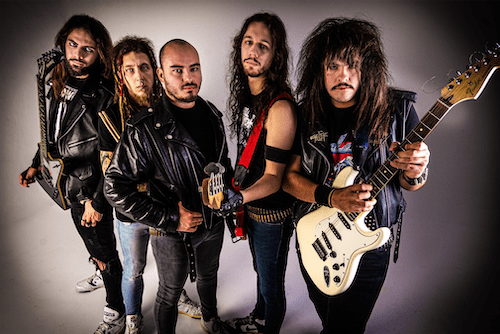 Album Review: Redshark – Evil Realm
Reviewed by Paul Hutchings
Formed in Barcelona in 2012, Redshark is probably not a name familiar to many readers. The band, whose current line up comprises Javier Bono (guitars), Mark Striker (drums), Philip Graves (guitar), Chris Carrest (bass) and vocalist Paul Correas, have combined all their works into one expanded edition. What you get here is 12 tracks from their earliest singe 'Lights of Darkness' through to their most recent EP, 'Evil Realm', released in 2019.
What's apparent from listening to this compilation is that Redshark have improved immeasurably since their raw debut single. The change of vocalist has undoubtedly been a massive factor, with Correas having joined the band in 2019 and taking over vocals from Graves, whose early efforts are spirited but limited. There's little comparison between tracks such as 'Witch' and 'Fight the Rules of Power' from 2016's EP 'Rain of Destruction' and their more recent efforts.
It's a brave and interesting way of combining all their music in one place. Redshark's energy is undeniable, and if you enjoy the 80s speed metal of Exciter, Razor and Abattoir as well as early Maiden or Priest, then this should be worth a listen. The musicianship is rudimentary at times, but their latter works are certainly more polished. For those who like their metal a little rawer, the earlier works will be of interest. There are elements of thrash, but the focus is very much on speed metal. The pace of 'On The Edge of War' in particular is ferocious, especially if you can get past the muffled production.
Whilst the later material is solidly composed, there is a big gap between the naivety of 'Light of Darkness', recorded as a trio in 2013 and not particularly good, and the most recent music. In fact, there is much to enjoy about the 'Evil Realm' works, with the dual guitar work and Correas' singing a different level to their earlier works. I'm still not convinced about the overall remastering on this release, but there is enough in the first four songs, which is essentially the latest EP to suggest that Redshark could still do something in the future. And I haven't mentioned the album artwork, but let's just say that it ticks about a million metal stereotypes.