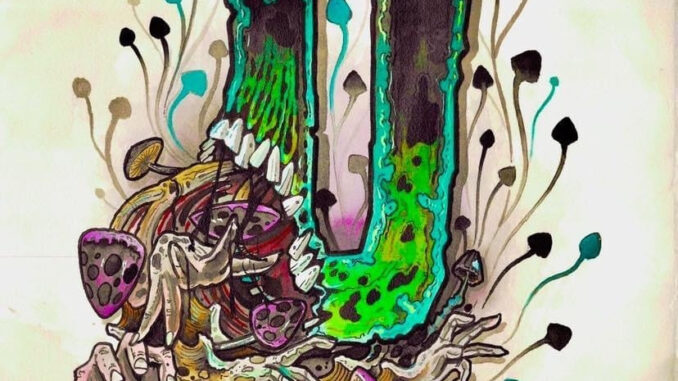 E.P. Review: Mütherload – Ü
Reviewed by Matthew Williams
When you think of Canadian thrash metal, it usually conjures up memories of Annihilator, Voivod and Sacrifice, but could there be a newcomer about to challenge their legacy? If you like your music fast and heavy with groovy riffs, then Mütherload, the 5 piece hailing from London, Canada, are going to be one to look out for.
Their 6 track debut E.P., entitled 'Ü' draws on lots of elements of thrash metal, heavy guitars, awesome melodies, pounding drums and a vocal from singer Derek Lee, that sounds like he's gargled with concrete before being let loose!!
'Insect' is the lead track, and delivers a crushing sound, simplistic drumming that helps the song flow, whilst the twin guitars from Patrick Davison and Derek Haley, have a groovy thrash edge to them, setting the foundations, before 'The Visitor' continues the heaviness, but with a few more intricate musical notes, nothing flashy, but purposeful and musically enhances the song.
Title track 'Ü' is a short interlude of acoustic guitars and spoken words, a bit strange, as it's just before 'Iniquity' which is the stand out track for me, fast and heavy melodies, juxtaposed with slowed down sections, excellent bass from Chris McKichan, before a lead solo kicks in to highlight what a bright future Mütherload could have.
Another acoustic song, 'Thaugust' is up next, which isn't really needed in my opinion, as it distracts from the overall heaviness of the other songs, but final track 'Lamia' reminds the listener of the undoubted quality the band has. The verses have a cleaner vocal over a doomy riff, showing a bit of diversity, but works really well within the concept of the song, but the final minute of the song is bloody brilliant, amazing guitars and vocal delivery.
Mütherload have given people notice, and they are delivering right here, right now, and deserve your attention.