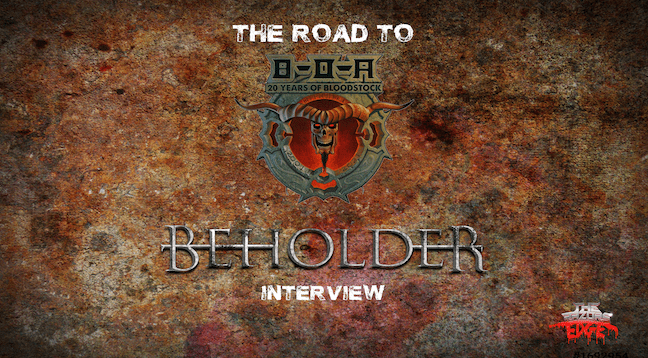 Interview: The Road To BOA - Beholder
Interviewed by Tim Finch
In the lead up to Beholder's final appearance at this years Bloodstock Festival, we chat with frontman Simon Hall about it all! 
The Razor's Edge: Simon! Welcome to The Razors Edge and our Road to BOA coverage!
Simon: Hey, thank'f for having me, how's it going?
The Razor's Edge: Not too bad! Now I want to focus on Beholder, although appreciate you work for the festival too.
This will be the bands 7th appearance at the festival. Including twice in the same day back in 2009!
Simon: No never! Heaven forbid that would make us the house band. Well, that has gotta be Scarecrow, surely to God? [Laughs]
The Razor's Edge: Well I have in my notes you were once referred to as the Bloodstock house band, until Evil Scarecrow came along to steal that title…
Simon: We were yeah [laughs]. Is it our seventh appearance really? Wow!
The Razor's Edge: According to wikipedia it is.
Simon: Well, I do remember the first one was 2005 or 2007 maybe, when we played on what was called the Lava Stage, which later became the Sophie Lancaster stage. That's when I first encountered Bloodstock and at that time the stage was made of pallets. Back in the day there was no crowd barrier as such and the electrics blew and everything. I seem to remember, I was probably three parts drunk, saying "this is a bloody joke who running this show?". It ended up I was the following year! So yeah, it's been good. It's been a good journey for the band and it's been great working with Bloodstock. So yeah, brilliant.
The Razor's Edge: So with all that experience at Bloodstock, is it fair to say the festival is Beholders true home?
Simon: Without a shadow of a doubt. We've had some great times. The whole concept with Sophie Lancaster thing and what we did for the foundation and that connection was was has been very strong and obviously with me now working for them 24/7 now. It does seem that way at the moment, as soon as we start building the festival for the 12th, I really am working 24/7 at the minute. So yeah, the connection strong and it'll be nice to wrap it up there on on the Wednesday night.
The Razor's Edge: What is it about Bloodstock that draws you as a band back time after time?
Simon: The guys in the band go every year irrespective or whether I'm working or whatever the billing is because I think it's more than that, it is more than the billing. It's so much more, it is like family, it does seem like family, I mean the amount of smiley faces and people that we recognise it's almost like coming home. It's just something that we gravitate to every August.
The Razor's Edge: Your appearance is being advertised as your farewell show, I could have sworn the last time you played was your farewell.
Simon: Well, no, the last time we played there was just before the Onslaught tour. So, no it certainly wasn't because we were sort of riding on the third album and we were doing extremely well. Then we sort of had a bit of a wobble and we decided to draw a veil over it but then we thought to ourselves, you know, there's no acrimonious fallouts, there's no drug induced dispute between the band, we were just sick and tired of the sight of each other. So we decided, let's do this properly, let's put on a show. We were going to put on a really big production, well produced and well rehearsed show, but we've done three rehearsals in four and a half years, so it couldn't go anywhere...
The Razor's Edge: Have you got any special plans for that final set?
Simon: What we're gonna do is we're gonna do three off the first album, two off the second album  and then three from the last album with a couple of little surprises in the middle as well. We've only got 45 minutes. So we just want to sort of tip our hat to everyone that's supported us as we know we've got a lot of support there. We just want to tip our hat and say thanks for what's been a great run really!
The Razor's Edge: And post Bloodstock, from a personal perspective where do you go from here? Is this you calling time on your on stage career?
Simon: I don't know, actually, because I thought it was, but then a couple of people have approached me already wanting to want to do something. So who knows? I know Bloodstock is gonna keep me bloody busy anyway, at the moment, we're already booking for 2022. We're just battening down the hatches over 2021 going ahead and hope that it goes ahead favourably, which I'm sure it will.
The Razor's Edge: And just quickly before we head off, you have your role within the festival organisation as well. How difficult has this year been to plan and put together compared to a normal year?
Simon: I think it's the uncertainty. You know, it's the fact that we're planning on putting stuff together in the knowledge that anything can change at any given point. As it stands at the moment, we're heading towards something that's going to be very special. Because I'm having so many people contact me and say "it just feels like a sort of coming home". There's a lot of people really excited about this one.
Putting it together logistically has been an absolute nightmare, because I've probably booked one and a half times more bands than the festival's actually putting on. Whether it's been travel corridors or some some of the British bands pulling out, which has completely spun me out. And some of the reasons are like... "oh my days". So yeah, it's not been easy. It hasn't been easy at all. But I think out of this, it's going to be something quite emotional. I'd have thought when it actually kicks off on the Wednesday, I think it'll be it'll be something special.
The Razor's Edge: Looking back on the last two years, would you as a festival have done anything differently?
Simon: No. I think we've we've tried to navigate the whole scenario as best possible. I don't think we would have done anything differently, actually. Because I think by adding the extra day when we rolled over the tickets initially, that was something that we thought was a good idea, and it's sort of gone down well. Now, I don't think we would want to go through it again. But no I don't think you'd have done anything differently. Why? Do you think we should have?
The Razor's Edge: No, not at all, I was just asking really have you learnt anything from going through this last two years?
Simon: Yeah, the pandemic's a royal pain in the arse! On a serious note the fact is we're not gonna take anything for granted. On a wider the music basis I don't think I could ever take it for granted again. You know, those miserable piss wet Wednesday nights when you just don't feel like going to the gig, they aren't going to happen anymore. They really aren't. I think people need to cherish what we've got because it's still under a lot of pressure. You know, a lot of the smaller venues are going to the wall a lot of them can't see the horizon. We need to be there too. So that's a big message I'd love to put out there that we need to we need to support the live music scene, more so now than ever before!
Photograph: Simon Hall performing with Beholder at Bloodstock Festival 2016.
Photo credit: Tim Finch Photography