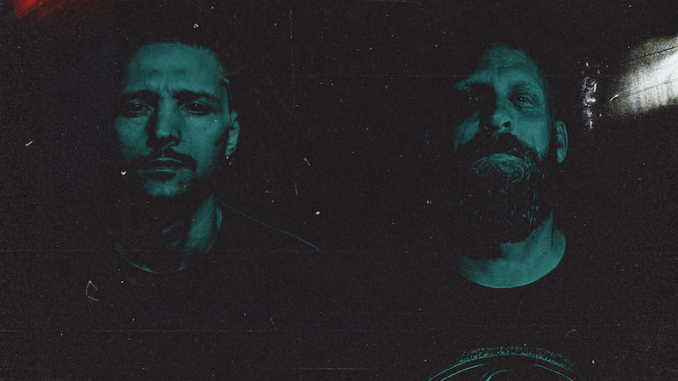 PREMIERE: Weston Super Maim's New E.P. '180 Degree Murder' *Streaming Now*
British/American extreme metal duo Weston Super Maim launch their stunning new E.P. '180-Degree Murder' tomorrow.
But today we are delighted to be album to bring you an exclusive stream of the E.P. a day early!
CHECK IT OUT BELOW!
WESTON SUPER MAIM has been lurking in the shadows as a one-man recording project spearheaded by UK musician Tom Stevens (All Of Space, Brown Stratos) for some time, however 180-Degree Murder marks a new level of intent, with US-based Seth Detrick of Los Angeles thrash outfit PDP uniting with Stevens to handle vocal duties. Drawing inspiration from the abstracted time signatures of Meshuggah, the groove and dissonance of Will Haven, and the riffs-above-all-else approach of Crowbar – as well as the boundary-pushing musicianship of bands like Car Bomb and Humanity's Last Breath – the E.P. is an ultra-heavy, surprisingly melodic journey through the extreme metal landscape.
Written as a single track, 180-Degree Murder traverses caveman heaviness, tech-driven grooves and shifting melodic patterns to create an immersive experience that rewards multiple listens. The writing process for the E.P. began in 2019. By the time the pandemic hit, an early instrumental draft had already been recorded, but it wasn't until Detrick joined the project in June 2020 that things really began to take shape. Making use of extra time at home in London during the first UK lockdown, Stevens retracked instruments for the E.P. at his home studio while Detrick developed lyrical ideas and vocal patterns from his home in Eugene, Oregon. Vocal tracking was completed in early 2021, and the mix not long thereafter.
Thematically, the E.P. is on one hand a disdainful take on the state of contemporary society and collective human behaviour, with a healthy apocalyptic vibe. On another, it has a more complex, introspective element, with the epic sections of the music offering a counterpoint to the nihilism in the lyrics. Binding it all together is the work of UK collage artist JoyPolloi, somehow translating an intangible fifteen minutes of music into a single piece of abstract art, representing the final piece of the WESTON SUPER MAIM jigsaw.