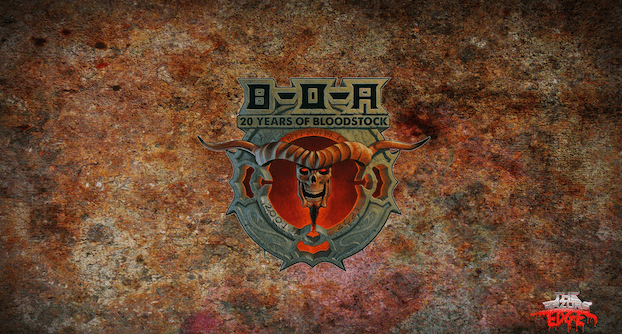 Bloodstock 2021: Saturday Review
Words: Dan Barnes, Tim Finch, Paul Hutchings
Photos: Tim Finch
It's an early start to Saturday after the last finish last night, but if one thing is guaranteed to get the blood pumping it's the prospect of Borstal's first ever gig. Bloodstock's middle day is the starkest example of the effects of the pandemic on the festival, with bands like Wargasm and Malevolence perhaps not getting the chance to play to the main stage crowd. Borstal shake the cobwebs off of Bloodstock with some intense UKHC style aggression; sections of the crowd are already two-stepping and hardcore pit dancing. Despite the early hour and the sparse attendance, Borstal serve up an awesome half-hour or so, even dropping in a couple of newbies to whet the appetite for the full length which, hopefully, will be arriving soon. [DB] 
Having taken a quick aural pummelling from UKHC outfit Borstal, Liverpool's Video Nasties were in no mood to allow me any respite with a visceral half hour of punk-tinged Black n' Roll which ensured that the head was nodding, and the foot was tapping from the opening bars. This is a savage, no holds barred band led by vocalist Damien Von Talbot whose sheer aggression was sufficiently stoked to allow one to wonder if he is always that angry. Video Nasties excellent 2020 album 'Dominion' unsurprisingly provided the basis for the set, and the raging stomp that captivated the Sophie Tent was symbolic of the weekend – we don't give a toss, let's party! Using cinematic audio clips from retro horror films, Video Nasties are a firecracker on stage, possessed with an underlying groove that is difficult to forget. 'Hanging Tree' or example, featured audio clips of Vincent Price in the seminal 'Witchfinder General'. The 30 minutes flew by, always a good sign before the band and one I'll be keen to catch again soon. [PH]
It feels as though Conjurer have been an integral part of the UK festival circuit for some time now and that expose has fine-tuned them into a rock-solid riffing machine. The complexity of their music never once belies the brutality of the tunes as they power through the likes of Retch, Choke and Scorn. [DB]
Wargasm (UK) are surely the squarest peg in Bloodstock's roundest hole, yet their efforts are rewarded with a sizable crowd who have turned up to celebrate in any way possible. The industrialised grooves are possibly the furthest Bloodstock have strayed from their usual fayre, but Wargasm are no slouches when it comes to treading the boards of larger stages and have the attentive audience in the palms of their hands. [DB]
More sludgy doom in the shape of Brighton's King Goat and a miserable set filled with darkness and isolation. King Goat chill right to the marrow, with their 2018 album 'Debt of Aeons' an album I picked up by chance but really enjoyed. Live, they took things steady, with the hooded figure of vocalist Anthony Trimming casting a sinister presence front and centre although I was more concerned with how hot he must have been in it! Thick, heavy riffs pounded the air as the band pushed through a short 30-minute set which included songs from both albums. Visually, Trimmings is the centre of attention whilst the rest of the band are understandably rather static, headbanging away as the mood took them during their lengthy songs. A set that may not have captivated in the same other bands of the same genre did, King Goat did a grand job, just the same. [PH]
Someone really needs to tell Malevolence that making a bid for band of the day so early on could be a fool-hardly move; but youthful exuberance and a total commitment to their craft sees the Sheffield wrecking crew damn-near pull it off. In front of a huge crowd frontman Alex Taylor organises a major demolition job, beckoning those fans not slamming to go over the top; like a first World War general, Taylor and his cohorts supervise carnage on a grand scale, the likes of which even Municipal Waste have not seen. [DB]
It was a strange road to Bloodstock for many bands on the New Blood stage this year. For Telford blackend death metal outfit Blood Church the usual Metal 2 The Masses competition was replaced by a judge vote in Wolverhampton without any live shows. Eventually they won out amongst stiff competition and got their chance to shine.
Sadly, unlike their 2019 M2TM final appearance, the pigs heads on stage at Bloodstock were not real, but that did not distract from the performance. Liam Simpson shredding on his new 8-string guitar, which the band claim helps add another dimension to their music, alongside new guitarist James Welch who played his first gig with the band at the festival. The fans certainly agree with the added dimension as bassist/vocalist Chris Thomas destroys his vocal chords for the fans entertainment atop the raucous guitar work behind him. A brutal assault on the senses Blood Church never fail to deliver and this Bloodstock performance will no doubt lead them to bigger and better things. [TF]
The Steel City is well represented this afternoon but While She Sleeps face an uphill struggle to compete with what went before them. The sun has decided to take a break to be replaced by the first downpours of the weekend, though that hardly stops the band who open their set with gusto and show their faith in new material by having half of the set lifted from newest album Sleeps Society. [DB]
While at the other end of the spectrum Paradise Lost is here to celebrate their Draconian Times record. Released back in 1995 and deserving of a full outing, the Halifax Doomsters, suitably all dressed in black, set about reminding the crowd of their importance, not just to the British scene but the influence they have had across the globe. Draconian Times is a seminal Paradise Lost release and to hear the opening lines of Enchanted or the gloom of Forever Failure is a real treat. At least half of the album is being aired live for the first time in a decade and Nick Holmes introduces Once Solemn as One Second before correcting himself. The band are note perfect and Nick's interaction with the crowd is his usually acerbic. Questions about how many of the festival goers have bald heads and beards; mention of his weak right arm; and memories of 1995, when we all used to be able to drink heavily and still be up in the morning (that ship has well and truly sailed!) The set ends with Say Just Words, leaving us wanting more and commenting how much we'd forgotten what a cracking record Draconian Times really is. [DB]
No band is more suited to an indoor show at Bloodstock than Winterfylleth. Probably the most exciting and organically evolving UK black metal band, this was a show that displayed their class and quality. Opening with the intro to 'Absolved in Fire', the band stormed through a five-song set that comprised three tracks from 2020's fine' A Reckoning Dawn' as well as a couple of special tracks in 'A Valley Thick with Oaks' and 'Ensigns of Victory' from 2016's 'The Dark Hereafter'. Playing at their usual blistering pace, Winterfylleth rarely paused for breath although they always retain a melody and harmony that works on every level. Chris Naughton's ferocious roars soar above the frantic tremolo riffing, whilst drummer Simon Lucas is surely one of the most underrated drummers in the UK.
Utilising a lightshow that blended reds, greens, and blues, Winterfylleth were utterly transfixing. For the fourth or fifth time on the weekend I found myself lost in the waves of music that charged around me. It's often that kind of spiritual experience with these guys. With the dependable Nick Lucas bringing the bass on Naughton's right, more focus was on Necronautical guitarist Russell Dobson who took most of the lead work. More aggressive and more willing to move around than Dan Capp, Dobson provides a focal point that brings a bit more 'rock star' to a band who usually let the music do the talking. This isn't a bad thing, and his playing was incredible. Another band to catch on their UK tour later this year, Winterfylleth remain an incredible live band in every sense. [PH]
Making a habit of replacing Dimmu Borgir at Bloodstock, Dani Filth and his legion manifest themselves with At the Gates of Midian and Chthulu Dawn. The stage set is suitably in keeping with Cradle of Filth aesthetic, with flames shooting into the slowly darkening evening. Having played at three of the last four Bloodstock festivals Dani seems utterly at home on the Ronnie James Dio stage, prowling around as though it is his very own Pandemonium. Nemesis, The Promise of Fever and Cruelty Brought Thee Orchids are aired, alongside new track Crawling King Chaos from the forthcoming Existence is Futile record. What Cradle show wouldn't include Nymphetamine (Fix) or Her Ghost in the Fog? But it was great to hear Lillith Immaculate and From the Cradle to Enslave again. [DB]
You want riffs? Look no further than Old School Death Metal from Birmingham's Memoriam whose last show at BOA in 2019 was in the pouring rain. This time with no rain in sight, Karl Willetts, Scott Fairfax, Frank Healy, and Spikey T Smith brought their muscular death metal to the tent in one of the sets of the weekend. Opening with the roar of 'Undefeated' from 2019's 'Requiem for Mankind', Memoriam were in bruising form. Willetts was ecstatic to be back on a stage and demonstrated this with some cheerful banter between songs, dedicated songs to those that had died during the pandemic. The setlist was immense, with new songs from this year's magnificent 'To the End' mixed with songs from the band's other three albums.
'Onwards into Battle' may have been a shoe in on the set list, but the band took the decision to include 'As My Heart Grows Cold', the closing song on 'To The End' and a massive song in every sense, but also a slow, emotional track that hits right in the feels. It worked superbly, slowing the pace to allow a breather before the rampant finale of 'As Bridges Burn' and the levelling 'Flatline'. Memoriam are yet another UK band that never fail and this show was as impressive as I've ever seen them. [PH]
In 2017 headliners Ghost had been unable to follow the set that German Thrash legends Kreator has delivered as special guests, so it was with a real sense of anticipation that we waited for them to provide a true headline set in 2021. Not only did they deliver, but they brought a set crammed full of classics and more recent music in a manner that got the whole arena losing it in every corner.
It may be four years since 'Gods of Violence' was released but Kreator haven't been inactive with plenty of music since then. This set featured the first UK outing for new bassist Frederic leclercq who looked confident and comfortable alongside Mille Petrozza and Sami Yli-Sirniö amidst a stage set of some magnitude. Walkways flanked each side of the stage, there was enough pyro to burn down every church in Norway and an incredible lightshow that was backed up by ever changing images on the back screen.
Opening with the intense 'Violent Revolution' which opened the pits immediately, Kreator were in no mood to mess about. 17 songs culminated in the arrival of Dani Filth to join on vocals for ''Betrayer' before the inevitable 'Pleasure to Kill' bought the evening to a ferocious end. No encores, just a blistering blast through 'Enemy of God', 'Endless Pain', Phantom Antichrist, and an emotional 'Fallen Brothers' which Mille dedicated to Neil Peart amongst other stars who have died in recent years. A lump in the throat, not just for that but for a set list that had no cracks in it whatsoever. A singalong for 'Satan is real', the raising of the 'Flag of Hate' and a heartfelt speech from Mille about how important their first gig in 18 months was; it was a release of massive proportions for everyone watching and involved. It was spectacular in every sense. [PH]
Saturday evening hadn't finished though and a rush to the Sophie Tent was worth it for a spot down the front for a raucous set from Phil Campbell and the Bastard Sons. I've seen these boys twice recently at Steelhouse Festival and The Yard in Cornwall and they continue to deliver stellar performances which demand applause. A similar set to the previous two, with 'Rock Out' and 'These Old Boots' the main changes from The Yard. Andrew Hunt continues to grow in the frontman role, looking more confident and comfortable with every show. He's ably supported by the legend that is Phil Campbell, who remains an ace guitarist whose mere presence is coolness personified.
The mandatory "Fuck You Tyla Campbell" echoed around the entire tent whilst the band's original songs were mixed with a smattering of Motörhead classics including a version of 'Ace of Spades' which saw the tent erupt in absolute carnage. I said it in my review from The Yard, this song does something to people and prompted the start of a continued deluge of crowd surfers that got the frontline security working overtime.  A bludgeoning version of Killed By Death brought the set to a close, security breathed a sigh of relief and the crowd dispersed to cool down from the sweatiest gig of the weekend. [PH]