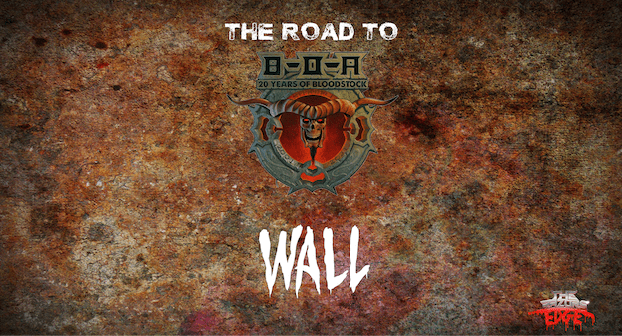 Interview: The Road To BOA - WALL
Interviewed by Tim Finch
WALL, a project created during lockdown by twins Ryan and Elliot Cole (also Desert Storm/The Grand Mal) have released two E.P.'s already this year. Next week they play Bloodstock Festival in what will be Wall's third ever live show.
We check in with the brothers prior to Bloodstock...
The Razor's Edge: Ryan, Elliot! Welcome to The Razor's Edge and our Road to Bloodstock coverage!
Ryan: Oh cool. Yeah, it's not it's not long now!
The Razor's Edge: The last time I saw you guys was with Desert Storm February last year on the Speedhorn tour, just before the shit hit the fan. That seems like an eternity ago now. How have you guys been these last 18 months?
Ryan: Trying to keep busy you know! That's why we've done Wall and we've actually written the majority of the next Desert Storm album in that time as well, about seven songs done for that. And a new Grand Mal album as well. So keeping busy with it, but missing the live shows!
The Razor's Edge: As you say you've kept busy! Tell us a little bit about the WALL project you've put together.
Ryan: It was just before Elliot had his son, I was living with him at the time for the first eight months or whatever it was locked down. We were in a little flat so I didn't have my amps there, I was just playing riffs on my electric guitar unplugged and Elliot was tapping out rhythms on his on his lap. So we we had no idea what it was actually gonna sound like we just said, let's go into the studio and we just had a go and it sounded alright. And I think we still only ever had one band practice.
Elliot: Yeah, yeah, we've only had one for for band practice that was like three weeks ago.
Ryan: I'm still trying to get used to the whole setup, because I go through a guitar amp and a bass amp! I got all these pedals and stuff that I've bought during lockdown. So I'm trying to get used to the whole setup. We got our first gig this Sunday without a rehearsal so hopefully it will go alright, we'll have to see.
The Razor's Edge: I'm sure it will!
As Wall you've already released one E.P. this year, you've got Volume 2 due out imminently. How has the new music been received?
Ryan: Yeah, good so far. We've had two review come in for Volume 2 and they've been positive. This is slightly different to the to the first E.P. That E.P. was a bit more Sabbath-esk and a bit more sludgy, I suppose. Whereas this one there's elements of thrash I suppose and a bit like The Sword in places, like Metallica in places too. There are still sounds from the first E.P. as well, you can tell it's still the same band. But yeah, it's just slightly different.
The Razor's Edge: I described Volume 1 as Iommi worship, but Volume 2 mixes it up a little, there's a definite Hetfield influence in there too as you referenced earlier. Was that the path he intended for the second release?
Ryan: I don't think so really, No. We've just had so much time to come up with riff and find something that sounds cool. We got to try and select what band we think a riff is going to be used for maybe during the Desert Storm 'Omniscient' era, the stuff on Wall may work to that.
The new Desert Storm sounds kind of event more progressive sludgy now. So that sort of stuff doesn't really work for Desert Storm. And The Grand Mal is a bit more rock n roll sow e were like lets just use these in Wall. We didn't really plan anything, we just came up with stuff and if it sounded good we just went for it.
The Razor's Edge: You're already busy with Desert Storm and The Grand Mal. How are you going to juggle another project post COVID?
Ryan: I mean, it's quite tough. It's even more challenging now that Elliot's got a son. So yeah, it's quite hard, really. With Wall we can't really do a great deal anyway, because neither of us can drive. So if we play shows, it has to be a tour where we get somebody in to drive, one off shows I'm not saying are out of the question, but that's a bit harder to get a plan around.
For Desert Storm we've got quite a bit for next year because it is our 15 year anniversary, so we got quite a big UK tour going to be announced soon which should be fun. And The Grand Mal we haven't really got anything booked yet. But we will be we got a new record coming out for that too. So yeah, it's just trying to manage it really with with our annual leave from our jobs and with Elliot's wife.
The Razor's Edge: So let's talk about Bloodstock, you guys are opening the Jager stage on the Friday.
Elliot: Yeah, it's 2.30 on Friday.
The Razor's Edge: Considering you are band with one E.P. under your belt, a second in a week or so, and you're yet to play a live show as Wall. How did the offer come about to play Bloodstock?
Elliot: Simon Hall messaged out of the blue. Sent us an email and it is actually during a tour we have booked with Wall and The Grand Mall. So we were we were determined to make it work because we didn't want to turn it down. We're actually we're playing in Glasgow the same night. So we've had to change things around because we wouldn't have made it in time to play as Wall in Glasgow as well. So I think for that show, we're just gonna do The Grand Mal in Glasgow and just have Wall play Bloodstock, it was the only way to make it work. So we go play Bloodstock and go for a free lunch then straight off. I think it's about five hours or something from Bloodstock to Glasgow, it's a big drive out.
The Razor's Edge: And you did that the last time I saw you. I saw you in Desert Storm in Sheffield on Speedhorn tour. But you played Manchester earlier in the day as both Desert Storm and The Grand Mal!
Ryan: Oh yeah we did three gigs that day didn't we. That was hard work, but fun! Good exercise on the drums, but a bit hard on the old ears after three sets.
The Razor's Edge: You played the Sophie stage a few years ago with Desert Storm. The Jager stage is very different, I suppose it suits you more as a two piece though?
Ryan: Yeah, it's a good start for us. We were just honoured to play it, you know, for it to be basically our first Wall show, well, it will be our third gig really. We're playing this weekend in Bristol and then we got a gig in Bambury the night before the start of the tour. It's a good warm up, but to get a festival like that straight off the bat is pretty cool.
We're looking forward to that a lot, I think like you say, the Jager stage will be good for our two-piece really.
The Razor's Edge: Have you got any special plans for the show?
Ryan: Not really, just playing loud and doing our thing really. Hopefully people will like it. Hopefully they don't get too bored with no vocals or anything but this is in the 25 minutes set so short and sweet.
The Razor's Edge: A lot of people won't be aware of Wall as yet, so to someone walking past the Jager stage just as you are about to play, how would you sell yourselves to get them to come in and watch you?
Ryan: If you like heavy loud music with no vocals; just twins just doing nothing on the day just straight up rock. You can't really go wrong if you're if you're a metal head and you'd like heavy music. There's no vocalists to make people say "oh I like the band but I wish the vocals were better".
The Razor's Edge: So you are saying you haven't got a vocalist holding you back?
Ryan: Yeah [laughs]
The Razor's Edge: As we come to an end today, after Bloodstock… Wall will be out on tour with The Grand Mal, after that tour, what are the plans for this project?
Elliot: We'll probably look to write an album some point but I don't think there's a rush because obviously we have the other two bands and we've got new stuff coming out with that, that we want to tour. I think it might be easier if Wall goes a little bit quiet for a while.
Ryan: I mean we have spoken about doing a really long tour because it's really easy. Obviously that with the family stuff as long as she's alright with that. The two of us always just really want to do it so we do a lot of the bookings with our other bands as well so we've kind of got the contacts to do this stuff. But like Elliot said for next year I would have thought we'll do more with the other two bands. Then maybe pick it up again and try and do some more Wall then.
The Razor's Edge: And finally, for our readers. Where can they find you on social media to find out more?
Facebook: @wallukrock
Instagram: @wall.band_rocks
Spotify: https://open.spotify.com/artist/44Xy4vrDbTXlTCOsvlxZWk
Bandcamp: https://wallbandrocks.bandcamp.com/