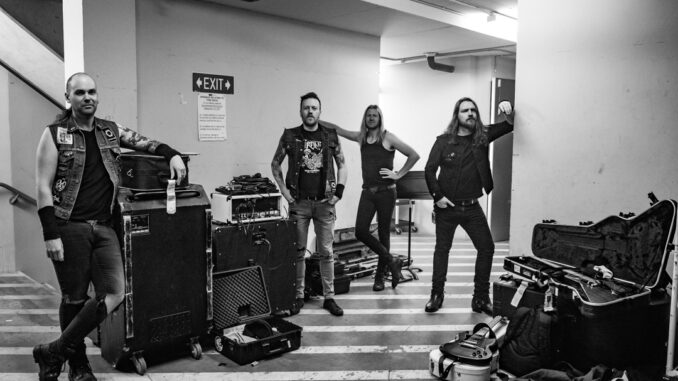 Album Review: Desecrator - Summoning
Reviewed by Gareth Pugh
Australian thrashers Desecrator appeared on my radar a few years ago when the title track of their first studio album 'To the Gallows' appeared in my recommendations on some streaming platform or other. I gave it a listen and was immediately drawn by the band's take on my favourite genre. They certainly take a lot of influence from the old school, but with very much a contemporary spin, and also using melody at the fore, and while they are very much a thrash band, there's more than a nod to the classic and more trad-metal scene.
'Summoning' is technically the bands 2nd album, although they have released an E.P. and took the unprecedented, strange, and yet cool decision to make their first release a live album; 'Til Death', produced by the legendary Harris Johns (Sodom, Kreator, Voivod, etc, etc) which in a time of clean, sterile digital recordings was an honest, loud and raw statement.
Back to the present 'Summoning' starts with a 30 second haunting intro 'Raise the Dead' which segues nicely into the title track, riffs spewing forth all over the place, before the band settle into an uptempo groove before the individual vocal tones of main man Riley Strong cut in, his voice is a large part of the unique charm of this band, and the closest I can compare him to is Ron Reinhart from the legendary Dark Angel, the verse barrels along nicely, while the chorus is designed to be a live classic with it's call and refrain nature, there's some great catchy harmony guitar parts and the cheeky false endings will throw you, until you suddenly realise your into second track 'Hate at First Sight', which picks up the pace leaving you short of breath before it bludgeons you around the head with its fat chunky breakdown, again huge hooks take this up a notch from the norm.
'Belly of the Beast' begins with sinister tones, allowing you to take a breather, but not for long, the song slowly builds, getting heavier and heavier with burly, meaty riffing until it literally explodes out of your speakers, this a mini epic with lots of sections and one of the best chorus' and lyrics on the whole album. 'Beg, Steal or Borrow', a tribute to the thrill and excitement of playing live, 'Wipe the Slate' and previously released single 'Manic' continue in similar style, yet with each having its own individual character, both with a powerful lyrical topic, I think talking about mental health issues. 'A Light in the Dark' shows a different side to the band, by slowing things down, it's almost ballad-like at the start, but with a very dark, brooding atmosphere, before gradually garnering intensity, and using loud and quiet dynamics to great effect, it's definitely a standout track. 'Smoke 'em if you got 'em' leads us into the home straight and references the old military saying, meaning "take a break" but also "do what you want, if you have the means", and is a balls-out thrasher with a massive chorus over a great chord progression and an intricate middle instrumental section. 'The Devil you Know' closes the album out in epic style, the longest track on the album, and flows through many styles and sections, each one building on the previous with a predefined target, the final crescendo, and is designed for maximum impact.
Production is superb, the band recording locally in Melbourne, the sound is clear and heavy, with a real organic vibe, so that it feels natural and not forced or artificial. This is a very strong sophomore release, the band both expanding on their previous work, progressing, yet staying true to their existing sound, and I really hope they manage to get across to the UK to promote it, if so I'll be the first in the queue.