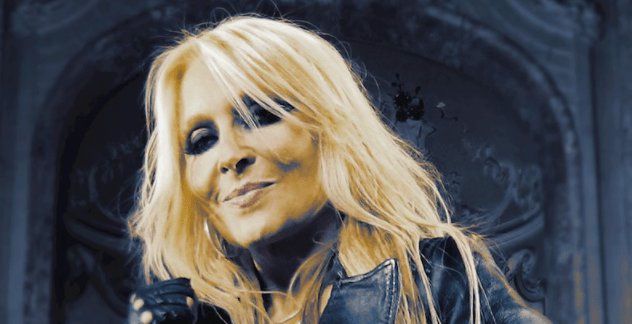 Album Review: Doro - Triumph And Agony Live
Reviewed by Paul Hutchings
It was only in November last year that I was eulogising over the 'Magic Diamonds - Best of Rock, Ballads & Rare Treasures' release. It was a truly magical collection, combining many of her classic tracks both hard hitting and softer ballads. Of course, Doro started out with Warlock, who released four solid albums before Doro began her solo career. The Metal Queen has never looked back, until now.
'Triumph & Agony' was the fourth and final album by Warlock, released in 1987 and their most successful. In 2017, Doro performed the album in full for the first time in front of a capacity Sweden Rocks festival. And now, on the 35th anniversary of the album, the recording of the show is released in the usual numerous configurations which give both hardcore and less committed fans options.
Whilst the order of the album is different to the live show, all tracks are included and 35 years on, they've lost none of their spark and passion. Opening with 'Touch of Evil', the 50-minute set is a blistering delivery of classic heavy metal that can't fail to get the head banging along. Such is the enthusiasm that Doro and her band, including original guitarist Tommy Bolan bring to the show, that it's no wonder that the crowd are up for it … and they sound amazing from the start. As Doro comments, the crowd are a huge part of this live show. "There was a killer atmosphere!" And this was perfectly captured in sound and image - to be heard (and seen) on the great 'Triumph & Agony Live' album. "
Balanced between the anthems such as 'East Meets West' and 'Cold, Cold World', we find two classic ballads delivered in her own inimitable style. The best is always 'Für Immer', a song that simply plucks at the heart strings when you hear it. Right in the feels every time. 'Make Time for Love' is something that the Scorpions could write in their sleep, but it's a beauty of a track with some scintillating guitar work. Closing the show with the brilliant 'Metal Tango', Doro then brings everything to a dramatic and uplifting conclusion with a massive version of 'All We Are', complete with mandatory singalong on the song that originally opened 'Triumph & Agony'.
With the cover incorporating Geoffrey Gillespie's original Warlock artwork, this is an album that every metal fan should listen to, even if only to pay homage to a woman who continues to live for the music we love. I loved every minute of it.