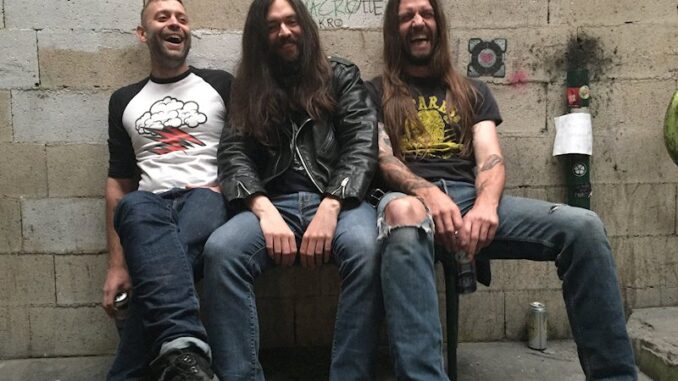 Album Review: Iron Lizards – Hungry for Action
Reviewed by Paul Hutchings
The debut record from French power-trio Iron Lizards is a real smash and grab raid. 12 tracks roll in at under 28 minutes, steal all your beer and head out of the door with a swagger that leaves you wondering what the hell just happened. The trio of Elio - Guitar & Vocals Kevin - Drums Valentin – Bass make one hell of a feisty racket which rarely stops for breath. It's full dirt under the fingernails with total disregard for their and anyone else's safety.
This is straight up fuzz filled guitar riffs, powerful drumming and driving bass right out of the garage rock book of in yer face! Think the rawness of the MC5 and the Stooges, but in a modern day setting and you'll be there. It's music to shake the fog, shake the head and dance the pants off all night long. It screams good time and anarchy. Sometimes it's exactly what you want. Put on Hungry for Action and prepare to smash anything delicate within a 20-foot radius.
And whilst it's carnage and chaotic, Iron Lizards can play with a power and energy that some bands can only dream about. There are bits of early Motörhead on the likes of 'Obey Annihilate' and 'Rip It Up', and the combination of explosive guitar and maniacal drumming combined with the raging vocals of Elio make it an album which is well worth getting hold of. Even the rockabilly shuffle of 'Deathride' grabs the attention with its groove and deep hooks.
Put this on at a house party and you'll be replacing the furniture and crockery. Have Iron Lizards to your wedding and they'd probably run off with the bride, such is the filth they generate. There's nothing to dislike; it's music that crosses genres and barriers, so grab a copy and lose your shit for half an hour. Why wouldn't you?