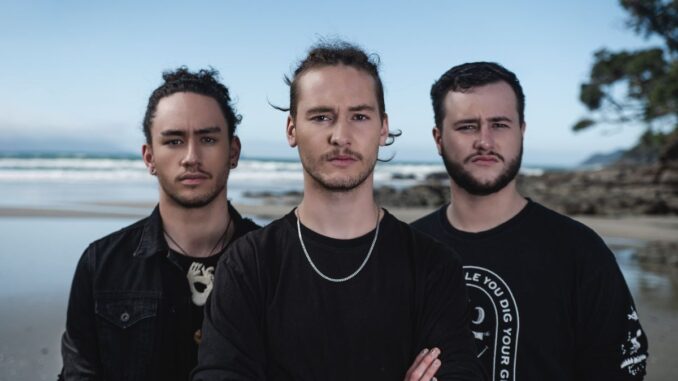 Album Review: Alien Weaponry - Tangaroa
Reviewed by Matthew Williams
Alien Weaponry are one of those bands that I've heard plenty of noise about over the past few years, but I've never actually heard anything by them, so I was really intrigued when this was sent to me by the big boss at The Razors Edge HQ.
Can they live up to the hype? Are they really the "future of metal" as described by Metal Hammer? Will this second album be as good or better than the first one? The answers to this and more are all subjective to the listener, but with anything remotely described as thrashy, I'm all ears and willing to give it a listen.
The New Zealander trio from the island town of Waipu, certainly have a very distinctive and unique sound, and with opening track 'Titokowaru' blasting in my ears, it took me completely by surprise to hear the words being sung in the native indigenous language of Te Roa Maori, but something that I really loved from the outset, and it draws instant parallels with 'Roots' from Sepultura. The song sounds primal and rebellious, and is a homage to a famous war chief who challenged the colonial government, but sung with conviction, passion and pride as they celebrate their ancestors.
The next two tracks, 'Hatupatu' which is inspired by the harrowing tale of a de Jong ancestor facing off a witch, and 'Ahi Ka' continue the trend of being sung in their native language, but entwined with frenzied, catchy riffs and tribal drumming from Henry de Jong, but I was caught by surprise when a speech from Queen Liz popped up, yet it adds great context to the song.
This album has allowed the trio to write meaningful and heartfelt songs about environmental and cultural issues, whilst incorporating traditional maori instruments called taonga puoro, which gives the tracks more ballsy-warrior style attitude. But they've also demonstrated great subtlety and depth in their songwriting, with 'Unforgiving' touching upon the personal experiences of self-loathing and insecurity, whilst the catchy 'Buried Underground' details the aftershocks of drug abuse.
There are some clear stand out tracks on the album for me, 'Kai Whatu' has a pummelling bassline from new bassist Turanga Morgan-Edmonds, with harrowing vocals from Lewis de Jong, 'Crooked Monsters' is a down-tempo song that builds up the tension, releasing great pain and anguish from Lewis, in reaction to discovering a friend had been sexually abused, and 'Ihenga' is raw and riotous in equal measure.
So are Alien Weaponry really the future of metal? That's up to you to decide. It's not as thrashy as I would like it to be, but I really admire what they've done with album. The songwriting content is more sincere and personal, and the riffs are more groove than head banging thrash, but this release will get the metal community talking again and they will break down more barriers and get moshpits swirling across the globe.