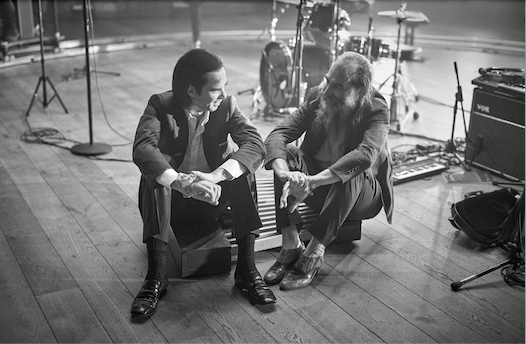 Live Review: Nick Cave & Warren Ellis - Blackpool Opera House
10th September 2021
Review and live photos by Dan Barnes
The opportunity to see an artist of Nick Cave's stature in such an intimate setting was a no-brainer from the outset and, having had the disappointment of the postponement and subsequent cancellation of the arena tour with The Bad Seeds, it was the perfect remedy for those blues.
From a genre perspective, those unfamiliar with Nick Cave's work need only look to Metallica's Garage Days Re-Revisited album and their cover of Loverman or, if you watch Peaky Blinders, his is the theme, Red Right Hand. Both feature on the 1994 album Let Love In, but using that record as being representative of his work out be akin to handing someone a copy of Momentary Lapse of Reason for the purpose of Pink Floyd initiation.
In the forty-plus years of his recording career, Mr Cave has explored genres as diverse as post-punk, alternative rock, experimental rock, gothic rock and even stripped-back garage rock. Not known for repeating himself he, like Michael Gira and Swans, continually push the creative process in exploration of what can be achieved. And, for the most part, his dedicated fanbase are more than happy to hitch along on the ride.
Although having been a long-time collaborator of Nick Cave, particularly in the area of soundtrack work, Warren Ellis has been a Bad Seed since 1993, but 2021's Carnage record is the first to be credited to both men.
With the house-lights still burning, the Vangelis-like ambient music which has been playing in the backgrounds since the doors opened, starts to increase in volume. Imperceptively at first, until it becomes apparent that the performance is about to begin. The lights are killed and Ellis takes his place at stage-left, seated before a dais where multi-instrumentalist, Johnny Hostile commands the drum kit, a bass guitar and all manner of other musical gizmos. On the other side of the stage are the three backing singers and central is Cave's grand piano.
Much of tonight's set not lifted from Carnage is taken from the 2019 Bad Seed's record Ghosteen, an album written in the aftermath of the tragic death of Nick Cave's fifteen-year-old son and, therefore, filled with a poignancy and mourning. The opening three tracks are lifted from that album: Spinning Song, Bright Horses and Night Raid all serve to draw the audience in with the stark beauty of the music.
To suggest tonight's performance is anything close to a memorial would be to give the wrong impression. Although the music is imbued with a sense of loss, Nick's audience interaction is dryly humorous. Being this is Blackpool in September, he tells of looking out of his hotel window and glancing upon an illuminated Spongebob Squarepants; and there's an obvious chemistry between Messers Cave and Ellis, shared with us as we learn of how sexually alluring Nick thinks Warren's counting is.
The simplicity of the lighting matches the mood of the performance perfectly. Lone spots pick out the performers while, occasionally, seated at his piano, Nick takes the full glare. Only once, during Hand of God, is the whole of the stage bathed in a harsh red light, complimenting the lyrical and musical theme of the song: Cave down on his needs before his gathered trio of backing singers as Ellis, still seated, injects a physical energy into his vocal performance.
The rare deviations from Carnage and Ghosteen sees Nick delivering a cover of T-Rex's Cosmic Dancer and revisiting the No More Shall We Part, The Boatman's Call and Abattoir Blues/ The Lyre of Orpeus albums for God is in the House, Darker with the Day, In My Arms and Breathless.
There is something intensity riveting about a Nick Cave performance, whether that be in the cavernous space of an arena or the intimate setting of a theatre, there is just something that engages you both emotionally and cerebrally; it becomes a near-religious experience and you are no longer a member of an audience, rather you become a congregation and the fervour in the room is very real. No longer are you a collection of individuals but have become somehow spiritually entwinned with every other person in the room, simply through the shared experience.
And, as you're probably wondering: no, the most potent chemical I'd ingested was Tetley tea.
A Nick Cave performance is a mesmerising thing to behold and tonight, stripped down, it felt like a communion of common souls. Whether a show of this intensity will ever come this way again will remain to be seen; but, as the tour is still in its early days, I urge you to catch it at a theatre near you.