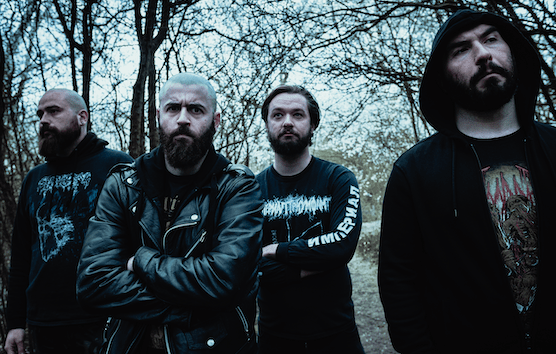 Album Review: Overthrow - Strike Down The Saviour
Reviewed by Paul Hutchings
Formed in 2011, Overthrow have been plying their trade for a decade and are now finally able to release their debut full-length record. Comprising nine tracks of relentless blackened thrash metal, the London outfit seem to have got their shit together in impressive style.
The sound is big, full of pacy riffing, thumping drumming and the snarling aggression of Jay White, vocalist, rhythm guitarist and founder member of the band. From the powerful opening of 'Premonition', 'Strike Down the Saviour' sounds like a band in a hurry; Overthrow are making up for lost time and whilst they may be behind the pack, on this form they will soon force their way amongst the front runners.
The album continues with 'Pure Death', and by now you'll have the idea of what Overthrow are about. It's aggressive and ferocious, with an underlying groove that ensures that the songs linger long after they have finished. Utilising a solid production that Sam Thredder at Cro's Nest Studio has ably supported, the songs blend elements of black and death metal into their style of thrash. It's fast and undeniably influenced by the old school thrash giants such as Slayer, as well as more recent outfits like Lamb of God and Power Trip.
Tracks such as 'Relentless Aggression' and 'Seeds of Disease' tell you everything you need to know and the variation in style, whilst not huge, is sufficient to maintain the interest. These two songs for example, demonstrate the variation with the former a blistering aural assault whilst the latter is underpinned by a massive double bass blast whilst the overlying riff is slower but even more heavy.
There is a nod to more than just thrash, with even some classic metal touches thrown in. It is an album that the band can be rightly proud to deliver. Alongside White, the lead work of Alex Harris, the deep rumble of bassist Alin Jordache and Scott Lindsay's drumming combine in a cohesive and confident manner. Unsurprisingly, White is happy with things in the Overthrow camp. "We are extremely proud of this album and the work that has gone into making it a reality. We love everything about it; the song-writing, the production, the performances, the artwork, everything. It is not only a fantastic representation of what this band sounds like in 2021, but it is also a retrospective collection of a decade's worth of hard work, hard times and above all, great fucking music that will leave any self-respecting metal devotee wanting more."
It may have taken a decade to get out, but with most of their problems behind them, Overthrow's time may be about to happen at last. It's an album that should be on the playlist.