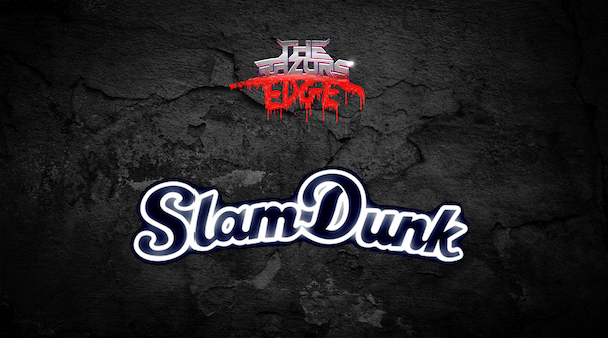 Slam Dunk Festival North 2021: Review
Words: Dan Barnes
As the summer swiftly fades and the 'bers step in to inexorably lead us into the dark winter, there's one more open-air show to attend: Slam Dunk. Situated conveniently just off the M1 in Stately grounds, Slam Dunk North is a single day affair and features six (count 'em) stages of continuous live music from 11:30 through to about 10pm.
Each of the stages features a different take on the contemporary rock scene, with the Jagermeister stages being situated at either ends of a marque tent and the Key Club's two stages positioned outside; both sets of stages operate a rolling one-on-one-off schedule, meaning that as a band performs on one, the other is being reset. We don't at any stage this afternoon get a Hellfest 2009 incident, where W.A.S.P. were still performing Blind in Texas as Down started their set.
Each of the stages encompasses an area of the contemporary scene: the Key Club being the smallest stages on-site, but sees rapidly rising scene favourites Wargasm – who seem to be ubiquitous across the UK festival circuit this season – and Hardbeat magazines issue 2 cover starts Holding Absence among the likes of Static Dress, A and Boston Manor. Slam Dunk give a billing to "Secret Special Guests" who could be a band for all I know, but turns out to be McFly. As I move from watching Snuff to Deez Nuts I wondered what the big crowd was all about. So glad I didn't stop to investigate.
The main arena looks not unlike a smaller version of the National Bowl at Milton Keynes – for those of us old enough to remember it – but open-sided at stage-left. The bill for this stage is wall to wall emo. Don Broco headline a bill which features Waterparks, State Champs, Mayday Parade and more. Now, I'm not about to insult your intelligence and try to make it look like I know these bands; neither am I going to hoodwink you into thinking I knows me emo – I don't and frankly I happy with that situation. But many thousands of people appear to be loving what's happening down there – raising hands aloft along with every heartfelt outpouring of woe-is-me to music. Still vox populi, vox dei – although it wasn't all that long ago that vox populi spoke Boaty McBoatface, so maybe vox dei is fallible – or more likely, this humble scribe is out of touch with what da kidz are listening to today.
It was always going to be the Jager stages and the Punk in Drublic area at the far end of the field that would be dominating my day.
I made good time to Leeds in the morning but get stuck in traffic approaching the festival site which means I miss Buster Shuffle's set, a real shame as I was looking forward to catching them again. Same goes for Brutality Will Prevail as it had been sometime since I last saw the Welsh lads delivering their brand of beatdown; I just caught the end of the set, which was enough to recognise BWP had not mellowed in the intervening years.
Due to some of the early clashes I miss the majority of Snuff's set but arrive in time to hear them ripping through a finale of a punk-version of the theme tune to Whatever Happened to the Likely Lads. It was something I was not expecting to hear this afternoon, but it brought a smile to my face all the same.
First band proper for me was Deez Nuts, the Aussie Hardcore crew who served up a meaty beatdown, laced with more groove than a seventies disco-revival. Basing a third of their set around the 2008 debut, Stay True, the band have enough experience to maintain the aggression level throughout, leaving with the crowd suitably warmed up for the chaos to come.
An about face toward the stage at the other end of the tent is not enough; what is required here is a full-blown march to the front of Jager's second stage as local[ish] heroes Malevolence are about to appear. The Sheffield band are rapidly becoming my new favourite band and their Bloodstock performance three weeks ago demonstrated they can master a big stage. At Slam Dunk Malevolence's killing capacity is enclosed and concentrated inside a tent already bursting at the seams in anticipation. Entering the fray with Serpent's Chokehold from the debut record and playing the whole of the recent The Other Side EP demonstrated the show at Catton Park was no fluke. This was heavy hardcore with beatdowns so heavy they likely have their own atomic number, played to a rabid crowd who greet the band like conquering heroes. Certainly, one of the bests sets of the day.
Sadly didn't get to see a whole heap of Comeback Kid due to the imminent arrival of some Sleeping Souls down at Punk in Drublic, but the bit I did see made me think that had  Frank Turner not been about to start, I would have spent more time with the seasoned Canadian Punks.
Frank Turner and the Sleeping Souls arrive ridiculously early for a band of their stature, but another festival show later in the evening at the Mosley Folk and Arts Festival rob Slam Dunk North of the mouth-watering prospect of Frank joining NOFX on stage. Still, any Frank Turner performance is a joy and, with the memory of the Manchester Apollo show just two weeks old, the anticipation was at fever pitch as the Punk in Drublic stage began to fill. Show 2545 was a cut down version of the Apollo gig, focusing on the upbeat and uptempo numbers. Newbies The Gathering and Non Servium suggest the new album is going to be a ferocious beast, while standards Photosynthesis, I Still Believe and Four Simple Words are designed to steal the voices of the crowd. Like all Frank Turner shows, it's just not long enough.
Trash Boat were something of a change of gear and brought their own brand of pop-punk to the proceedings. Naturally – though bravely – their set was heavy centred around the latest album Don't You Feel Amazing, which has not yet been out for a month. For the most part, the crowd lapped it up and greeted each new song with the vigour they reserved for the more established numbers.
Zebrahead do not do things by halves as, not only are they having to follow The Sleeping Souls but Slam Dunk is also the live debut of new vocalist and rhythm guitarist Adrian Estrella. If he or his band mates are feeling the nerves they hide it very well and crank into Rescue Me and Save Your Breath without a care in the world. Their rock/ ska/ pop take on punk is infectious and sees insanity spreading to almost every corner of the field. An inflatable joisting competition between a unicorn and a dragon precursors Falling Apart and they have the assuredness to feature the first live outings for A Long Way Down and Lay Me to Rest.
If memory serves me right, the last time I saw Funeral for a Friend was in December 2003 opening for Iron Maiden at the Manchester Arena. At that time they were the hot new up and coming thing and the supporting slot on the Death on the Road tour was any band's dream gig. Back then the Welsh band were peddling the Casually Dressed and Deep in Conversation album and here, at Slam Dunk 2021, the debut makes up the majority of the tracks played. Between 2005 and 2015 Funeral for a Friend released half-a-dozen further albums, none of which had the resonance of the debut but when the crowd sing every word of the likes of Rookie of the Year back to you, it must give you a warm feeling of having been missed. Only Sixteen is played from the last ten years and, for an hour at least, it's back to the early noughties, when we thirty-somethings used to laugh at the young folk wearing those daft baggy jeans.
Funeral for a Friend were a late addition to the Slam Dunk bill, as were Skindred. And if Funeral for a Friend played a nostalgia set, then Skindred did what Skindred do and, playing to a tent that could not fit another person in it, hosted Temple Newsam's second biggest party of the day. Stand for Something. Rat Race, Ninja, Kill the Power, Newport helicopters, everything Skindred represent, packaged to perfection. I've said previously within these digital pages that Skindred are not my bag – but I do recognise utter class when I see it.
There's a delay before The Skints hit the stage, but when they do it is with the kind of mellow reggae vibe rarely seen at Punk shows. Their fusion of reggae, ska, dub and a little bit of soul act as an oasis of calm amid the storm – the eye of Punk in Drublic's hurricane, if you will. Shoulders sway and heads bob along to the chilled out tunes, allowing energy levels to be restored for the stage's final three acts.
Cannot tell you how disappointed I was that Pennywise had not been able to play Slam Dunk this year, but their replacements, Anti-Flag, come with their own unique selling point. Channelling the political ire of the Dead Kennedys with the So-Cal punk of Bad Religion, Anti-Flag bound around the stage like sugar-filled toddlers. Going into an Anti-Flag performance you know that the band wear their left-wing hearts on their sleeves and though I don't necessarily agree with them politically I do respect their right to use their platform to expound their views. The Press Corpse, Fuck Police Brutality, Hate Conquers All and, of course, Die for the Government are all aired and given additional vigour after the year and a half we've all just had. Among all of the political rage, a cover of The Clash's Should I Stay or Should I Go seems almost tame.
Looking about the site, I think there are more Bury Tomorrow shirts on show than for any other band. Combining their newest material with the most recently toured, means Bury Tomorrow maintain a freshness and angry attack from the get-go. Beginning with a live debut for Choke the band hit the stage with the kind of vigour and aggression usually discouraged in many walks of life. I often think there's something of the Parkway Drive about Bury Tomorrow in that they successfully manage to mix crushingly heavy music with seriously catchy hooks. I was disappointed not to get anything from Portraits but, if that's the only gripe, then I'm reduced to nip-picking.
Now in their twenty-fifth year, Alkaline Trio's more sedate approach allows the blood pressure to return to a normal level after Anti-Flags full-on assault. Culling their set from across the whole of their recording career the Chicago three-piece provide another way to be heavy and aggressive and the performance is lapped up by the constantly moving front of the stage.
Slam Dunk 2021 feels like the third part of a trilogy of festivals, beginning with the Download Pilot, moving on to Bloodstock and finishing in Leeds. With many of the same actors appearing throughout it's left up to While She Sleeps to close off the tented festivities for this year. I do believe we should be looking for the positives from the past eighteen-months, one of which is the emergence of exciting new bands who have been given the opportunity to step up and show their worth. While She Sleeps might have fifteen years under their collective belts, but it is only over the past festival season that their stock has risen in the wider public conscious. Let's be honest about this, but how many of the Bloodstock faithful would have given the likes of While She Sleeps, Malevolence, Wargasm or Bleed From Within much of a chance had fate allowed those band to play the main stage?
This really is a great time for domestic bands and While She Sleeps are leading the charge, delivering killer performances time and again. The stage craft and crowd interaction suggests big things are in store for the band and, hopefully for all the artists to whom this applies, the momentum will continue to even bigger and better things.
Although Skindred very nearly steal the title of Party Band of the Day, NOFX are having none of it and, bounding onto the stage that bears the name of the their 1994 album to the Time Warp, Fat Mike and co show Newport's finest how to host a shindig. Having never signed to a major label has allowed the Californians to do things their own way and not be beholden to other external influences. In that respect NOFX are the real punk deal and staying true to their beliefs and intentions has paid dividends as all those not turned on by Don Broco's set have packed the Punk in Drublic stage.
With a list of albums and extended plays longer than a Leonard Cohen song, NOFX spread the love and dive deeply into their past. Only I Love You More than I Hate Me is played from their 2021 Single Album, though the composition of the set is secondary to the chaos it generates. We get covers of Straight Edge from Minor Threat and a second airing for Frank Turner's The Ballad of Me and My Friends from last year's split record West Coast vs Wessex. As I understand, Mr Turner joined the band for that one the following evening at Slam Dunk South.
As the cold, dark nights begin to creep in and the UK's truncated 2021 outdoor festival season is brought to a close what better way to do so than NOFX? Slam Dunk is a festival with something for everyone, it's well laid out and there's never a feeling of being cramped or hemmed in. With the nature of the six operational stages there's rarely a time when there isn't at least two bands playing somewhere on the site. Advertisements around the arena show that Slam Dunk 2022 will be back in its usual summer slot of late May/ early June and another day at Temple Newsam may well be on the cards.