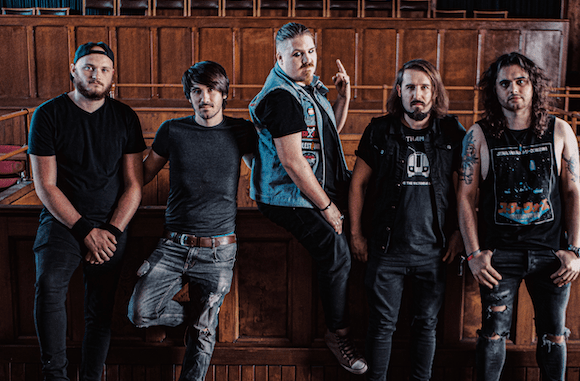 E.P. Review: Dead Man's Whiskey - Breakout
Reviewed by Dan Barnes
I saw Dead Man's Whiskey opening the Stonedead Festival last month and was blown away by their passion and intensity and, despite the early hour, the way the London five-piece commanded the stage. I couldn't help but liken the performance to Thunder, stepping onto the Donington stage some thirty-one years before and laying down a marker for Aerosmith and Whitesnake to beat.
Stonedead 2021 was a celebration of all things great about British Classic Rock and Dead Man's Whiskey started the party in the best possible manner. Obviously, their set was for the most part taken from the Under the Gun debut, but they did manage to do a little bit of forward promotion of this collection by giving the title track an airing.
The Breakout E.P. is four new tracks and one re-imagine from the previous record; and the new material is filled with the kind of fist-pumping beats, chest-beating riffs and soaring solos you would expect. I Am Here is built around an 80s sleezy guitar that evokes images of crawling down the LA strip, all massive middle-finger attitude and screeching strings.
Thankfully, Sleep When I'm Dead is not a rendering of the Bon Jovi tune, but a feet-tappin' heads-bobbin' opener that sounds far more mature than the short history of the band would suggest. Like all the new compositions here, the predominant theme is that of having a good time so, although Never Ever seems slower and somewhat edgy compared to rest of Breakout, it wastes no time at all getting right up into your face so that you can smell the whiskey on its breath.
Every self-respecting Classic Rock release needs a tear-jerking ballad and Breakout serves up a reimagining of Under the Gun's Make You Proud for the piano. This new version feels more introspective and Nico Rogers' vocals more mournful, giving a different perspective on an already delicate song. Not sure if it's in d-minor – the saddest of all keys – but it does have simple lines intertwining and possibly influenced by Mozart and Bach. In a different time, this track would have catapulted Dead Man's Whiskey into the stratosphere as it has all the necessary credentials of a bone fide Rock Classic; guaranteed you would not have been able to go to weddings, funerals or Bar Mitzvahs without hearing it at least once.
Breakout is a killer release and deserves to get the band on all manner of stages in front of as many people as possible. That said, I don't imagine there are many bands relishing the prospect of following this bunch.