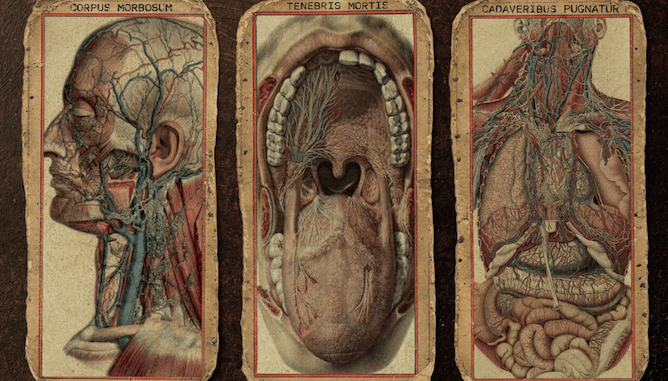 E.P. Review: Pharmacist – Carnal Pollution
Reviewed by Daniel Phipps
The death metal scene has evolved over the years, the style has become far more accessible than ever, the production has become more polished and crisper and the variety of styles of the genre now available can give you anything you want, it's fair to say death metal has you covered. Now sometimes what you desire is a raw unpolished sound from a band which keeps the traditional style alive and just completely pounds you with that ugly sound that made death metal what it is today. If that is what you want, then let me introduce you to Pharmacist.
With a total of eight releases (not including singles) in a very short existence the Japanese duo who go by stage names Pharmacist who handles guitar, bass, vocals & Therapeutist who handles drums have dispensed a fair share of goregrind goodness and their new output 'Carnal Pollution' adds a ninth release to the catalogue.
With 'Carnal Pollution', Pharmacist supply a healthy dose of old school goregrind that sounds like it crawled straight from the 1980's, an extremely heavy dose of Carcass & Dead Infection influence can be found throughout the E.P.'s four gruesome tracks with some additional lead work on the tracks 'Disintegration' and 'Obsequial Orchestration' which come courtesy of Andrew Lee of Ripped to Shreds to add an expanded element to the E.P. while still remaining in touch with the band's filthy sound. Carnal Pollution is a set of tracks written by lovers of the old school for lovers of the old school, the ripping buzzing guitar tone dominates each track and raw drum production give an extremely no-frills approach to the E.P., this does not however mean that Carnal Pollution is badly produced the tracks are all perfectly audible and have a sense of reality which can very easily be lost with today's advanced production methods.
Carnal Pollution gives you a solid 20 minutes of classic sounding death grind. If you are after originality or flashy playing, then it's not really going to be a release for you. But if you want a good well performed set of tracks that takes you back to the early days of the genre then Pharmacist are worth spending your time on.