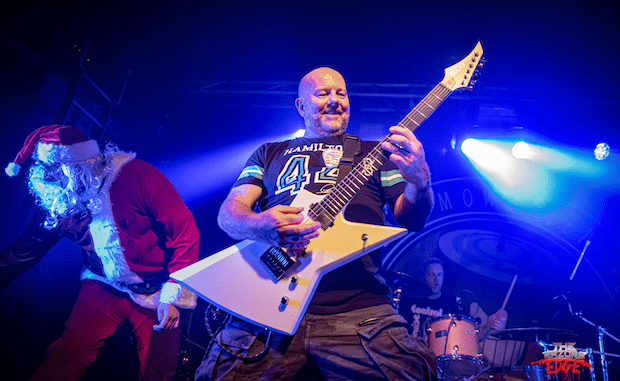 tLive Review: Lawnmower Deth - The Garage, Islington, London
30th July 2022
Support: Footprints In The Custard, Ward XVI
Words: Cat Finch
Photos: Tim Finch
It may be July, it may be so unbearably hot that sweat is seeping from every orifice imaginable, but today we are in London to celebrate Christmas! Not just any Christmas, for today it is Christmas 2020 all over again… just without any of those god damn restrictions! At The Garage in Islington it's finally time for the much rescheduled Lawnmower Deth 2020 Christmas show, and its brought out a mass of British thrash fans and also those in search of a party.
Those wonderful lads in Footprints in the Custard get the party started as the temperature in the room starts to rise. But it's Ward XVI who really mix things up. Their style of Alice Cooper theatrics mixed with catchy metal riffs is always a welcome sight. As ever the stage is full of props, Psychoberrie and her band mates, having escaped the nightmare of the Asylum lay out the full horror of their story. There's fake blood and wizardry but the riffs of Doktor Von Stottenstein ably assisted by the heavy foundation of Wolfy Huntsman and Bam Bam Bedlam drive this band forward. Not that any additional heat was required today, however Ward XVI have warmed the crowd up nicely.
When Santa appears on stage you know it's nearly time for Lawnmower Deth. Rummaging in his sack he throws out Christmas cards, baubles and even cans of beer to the crowd. Opening with an 'Into the Pit/Sumo Rabbit' medley was always going to get the crowd moving and they boys are off to a great start.
The band have a wicked sense of humour, prevalent throughout their songs and stage show and as Santa reappears to launch some killer cobs into the crowd we are bouncing along to 'Flyer Killer Cobs From The Planet Bob'. The killers cobs will remain active for the entire hour plus set, testament to the fans who lap this kind of interaction up.
With latest album 'Blunt Cutters' now a mere seven months old, we see a lot of new tracks in the setlist. Along with the set opening 'Into The Pit', 'Swarfega', Good Morning, Phil', 'Botheration', 'Bobble head' and 'Death! Maim! Kill!' all get an airing, melding seemlessly with the likes of classics 'Spook Perv Happenings in the Snooker Hall' and 'Sheep Dip', which was sadly lacking the actual interactive sheep dip on stage this evening.
New album favourite 'Raise Your Snails' has the whole venue raising their snail horns in anger as two giant snails appear with the band on stage. Mid song one of the aforementioned snails manages to break Mightymo Destructimo's bass rig prompting a full crowd rendition of Slade's 'Merry Christmas Everybody' – well it is Christmas after all - whilst we wait for it to be fixed.
An evening of wanton tomfoolery over, the question "How many times can you bounce up and down on Satans big old trampoline?" remains unanswered as fans spill out of the venue onto Holloway Road to continue the evenings frivolities.