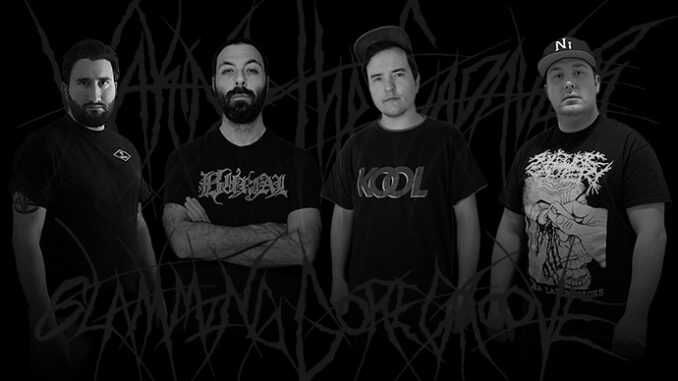 Album Review: Waking The Cadaver - Authority Through Intimidation
Reviewed by Daniel Phipps
Since the announcement that Waking The Cadaver were ending their hiatus in 2018 and returning to the stage you would be hard pressed to find a more hyped up act in brutal death metal. Waking The Cadaver are no strangers to being this kind of internet sensation they were after all part of the 2006 MySpace generation of bands which blew up via the social media platform. This along with their brand of self-described Slamming Gore Groove, and its hardcore edge did not sit well with many a fan of brutal death metal and lead to a fair number of arguments on many a message board, but hey no such thing as bad publicity I suppose, and they certainly didn't let it slow them down releasing 3 full lengths before going on hiatus.
Waking The Cadaver return with a new record following from the 2013 release Real-Life Death and now under the Unique Leader banner with Authority Through Intimidation. The new incarnation of the band who's only returning members pre the hiatus is frontman Don Campan & guitar player Michael Mayo, with drums on Authority Through Intimidation being handled by none other than Lord Marco Pitruzzella (Brain Drill, Six Feet Under, The Faceless to name but a few) who certainly is known for being an absolute monster behind the kit.
Authority Through Intimidation brings all the sheer intensity of Waking The Cadaver's thunderous live performances without the possibility having your nose broken. Don Campan (who based on both times I have seen them live comes across as a seriously intense dude) offers a savage dose of his well renowned guttural vocal onslaught, mixing effortlessly between ultra-low and a more pronunciation based vocal style. Mike Mayo, Lord Marco & Michael Thomas (bass) put together a collection of tracks crafted to cause sheer dance floor warfare full of ferocious riffs, thundering blastbeats and punishing brutal slams.
On every release Waking The Cadaver have upped the technicality of their song writing and this remains the case on Authority Through Intimidation, tracks like Corpse Decomposition showcasing a more technical edge whilst still maintaining the signature Waking The Cadaver sound.
Tracks like "Human Chop Shop" and "Asphyxiating Ligature" give nods to the bands early days by having a heavier dose of slamming groove that the demos and their full-length debut Perverse Recollections of a Necromangler was known for showing that they can still give the fans huge sounding brutal grooves.
With Authority Through Intimidation, Waking The Cadaver deliver the goods on a grand scale and brings the stylings of Dying Fetus and Disgorge and combines them with the violent intensity of Shattered Realm and early Hatebreed.