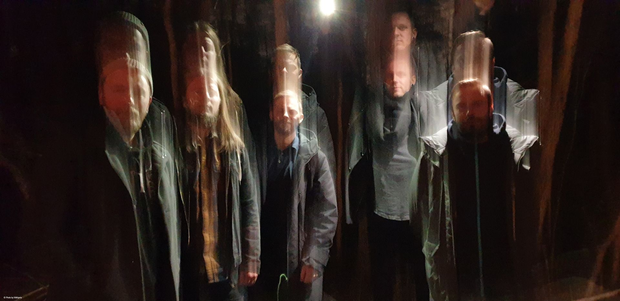 Album Review: Vildhjarta - måsstaden under vatten
Reviewed by Paul Hutchings
Good things come to those that wait or so they say. In the case of Swedish collective Vildhjarta, that's a decade, if you discount the EP Thousands of Evils released in 2013. Picking up thematically where 2011's 'Måsstaden' finished, their second full-length release is a weighty opus. 17 tracks and 80 minutes is long, even by Iron Maiden standards.
Often grouped with their progressive countrymen Meshuggah, this would be an incorrect assumption. Yes, there are massive breakdowns, huge dissonant guitar riffs and ugly, angular time changes through the release, but like Meshuggah, scratch beneath the surface and there is much more happening.
Måsstaden Under Vatten is filled with atmosphere. The fact that it cannot be comfortably pigeonholed or labelled merely adds intensity. Short staccato blasts dominate tracks such as 'brännmärkt', a difficult and harrowing piece that uses huge riffs, guttural roars, and haunting echoes. The songs are generally quick fired in tempo. Only three songs pass the six-minute mark, making this an album comprised of smaller, individual pieces of work that combine to provide a larger and more cohesive project.
There are unconventional elements that stretch throughout the record. Recently released 'När De Du Älskar Kommer Tillbaka Från De Döda'is rapid fire music, combining subtlety with a bludgeoning approach that links in a way that few bands could manage.
With comparisons to Gojira and Tool amongst others, one can only admire the technical prowess on display. It's aurally challenging, and in parts brutally extreme. Yet it works as one huge moving feast, a combined mechanism that waxes and wanes, ebbs and flows and erupts with ferocity and visceral intent.
Having focused on the entire package for the past five years, it's clear that Vildhjarta is now ready. With disturbing artwork courtesy of Rickard Westman, this is an album that refers to a world far away from ours. Cloaked in mystery, the band have limited live commitments to a mere handful in 2022. This may be as close as you get. An enigma, a curiosity but most certainly a unique work, 'Måsstaden Under Vatten' needs to be heard.