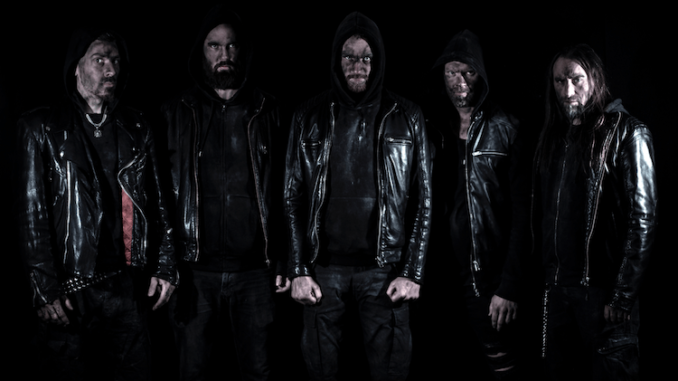 Album Review: Godhead Machinery - Monotheistic Enslavement
Reviewed by Paul Hutchings
With a stated objective to analyse the ongoing corruption and greed that swallows all that can be eaten in this world, it's unsurprising to discover that this third long player by this vile Swedish outfit is a disturbing cacophony of black metal. "The conceptual idea of the E.P. and forthcoming album spawns out of what Godhead Machinery stands for in general" comments founder Kail Karlsson. "Godhead Machinery serves as a tool to analyse in which ways religious beliefs infiltrate laws, policy, behaviours, and moral codes of todays society. By identifying these influencing factors, we can confront them and break free from them. The Devil represent the opposition against this well-planned form of indoctrinated slavery!"
With two powerful releases already tucked under their bullet belts, Godhead Machinery bring a mature and expansive sound which combines elements of death metal with their intricate and complex black metal rage. Tracks are generally short and to the point, with the exception being the monstrous title track that closes the album.
From the opening blast beats of Krzysztof Raczkowski (Vader) and croaking roar of vocalist Nicklas Ekwall on 'Sovereign of Null', it's evident that there is more to this band. There is a funereal feel to the track, with smatterings of explosive pace balanced with monastic chants, slower tempos and a devilish atmosphere that echoes the mid era Dimmu Borgir. The drama is continued on the following track, 'Ethereal', another brooding monster that forgoes velocity in favour of intensity.
As the album progresses, there is more of everything. You want agonised howls? You get them on 'Upon His Deceitful Star'. Slower paced without losing any of the heaviness. Check out 'Helion' with some shimmering tremolo riffing, a grinding speed that allows the malevolence of the song take centre stage. And then there is the grand finale which finds the band engaged as one unit, ruminating slowly, their fluid approach and movement throughout the eight minutes combining with the sludgy flavour that the band generate. It's a fine conclusion to a release that is shrouded in darkness.