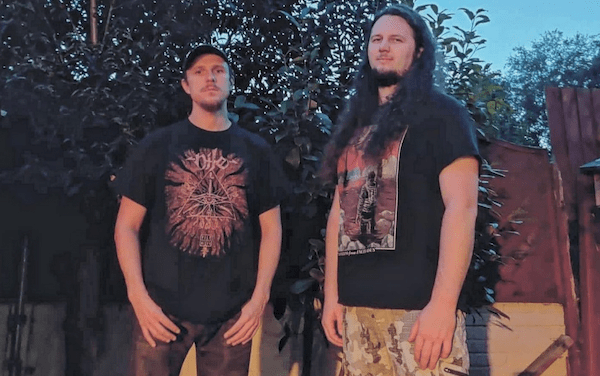 Album Review: Deliberate Miscarriage - Mortuary Melodies
Reviewed by Paul Hutchings
You can tell a lot by the cover of an album and this debut full-length from South Wales Death Metal Duo Deliberate Miscarriage leaves nothing to guess work. Well, even the band name and the title of this 40-minute aural assault tell you all you need to know. Yep, Deliberate Miscarriage ain't a lounge room band who you can sink a cocktail or two whilst listening to. This is typically gruesome and sick death metal that sits comfortably alongside the likes of Cannibal Corpse, Deicide and Suffocation.
On this album vocalist and bassist Charlie Rogers (ex-Sodomised Cadaver) and guitarist Adam Duffield (Blind Divide) have enlisted one of the most brutal stick wielders in the UK extreme scene in Lynn Jeffs from Ingested, and his performance is absolutely blistering as the trio carve out bludgeoning gore-soaked death metal.
It's a visceral wall of blast beats, punishing bass and razor wire guitar that savages and leaves you struggling for air. The opening track 'Splattered Toddlers' should leave you in no doubt that these guys aren't here to step around your sensitive feelings. No, they are here to leave a size 12 imprint on the side of your skull, challenge the cerebrum and ensure that you feel aggressively violated by the time that their cover of Pestilence's 'The Process of Suffocation' brings the record to a conclusion.
In between are tales of depravity with the likes of murder, torture, and revenge all contorted and disfigured. Rogers's vocals are barked with machine gun reliability, and in a standard death metal style, but hey, if it ain't broke, right? Having said that, they fit superbly well with the overall grisly feel of the album.
Featuring all the tracks from their first demo and the 2020 EP 'Ghost of Christmas Blast', 'Mortuary Melodies' also throws in seven brand new songs. 'Gutted with a Butterknife' may win one of the best titles here, and it also enjoys a status as one of the most savage tracks here. Similarly, 'Masochistic Masturbation' with its punishingly high tempo delivery stream rollers in about two minutes and 'Fresh Abortion Smoothie' drags the very bottom of the lyrical cesspit.
So, gory song titles, bruising death metal music and a hideous album cover. What's not to like? Underneath all of this lurks a slamming debut release. 14 fast and furious songs that are about as hygienic as a one-star restaurant's toilet brush.