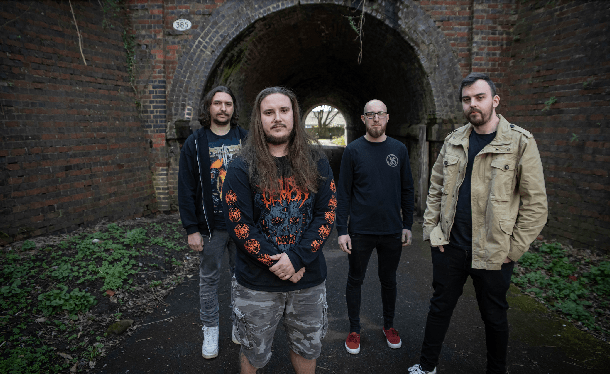 Single Review: Elyrean - The Omniscient One
Reviewed by Tim Finch
It's almost three years since I first stumbled upon West Midlands thrashers Elyrean. At the 2019 edition of HRH Metal they had been drafted in at the very last minute as a replacement and had the honour of opening the third stage for the weekend. I headed down to the stage not expecting much, but to my surprise I was blown away by their style, their musicianship and their delivery. They had it going on and I've been happily singing the bands praises ever since.
Of course pre-pandemic their stock was on the rise, that same year they won the Wolverhampton regional Metal 2 The Masses competition, they played the hallowed grounds of Bloodstock and opened up for Annihilator on their UK tour. I saw them no less seven times live that year and each time they impressed me more and more. Their momentum was built upon with 2019's debut album 'Blacken The Sun' (nee. E.P.) – seven tracks and forty minutes of technical thrash goodness.
Since then the pandemic has put the brakes on the Elyrean machine, as with most bands, and they have suffered the loss of original bassist/vocalist Asa. It raised the questions of where do they go from here? Today that is answered as they release new single 'The Omniscient One' with a refreshed line up ready to build upon their pre-pandemic momentum.
Out of the darkness, a dark, foreboding riff rises, haunting in nature it makes the hairs on the back of your neck stand on end. The intro slows, an aura gathers setting an atmosphere, spellbinding in nature. Then the new vocals scream forth…
Stepping up to the mic is Will Edwards, band mastermind and guitarist. His vocal styling differing from Asa's adding a depth and darkness we've not experienced before. The song itself fluctuates from the doom laden, heavy as hell sections book ended by sections of technical thrash perfection. Dan and Will's dualling guitars magnificently melding together. All built upon the foundations of Daryl's drum battery along side new bassist Josh Richardson.
Together the band have taken the momentum previously acquired and built upon it. Their sound has developed, improved, darkened. The Elyrean beast is rearing its head again and there's not much that can stop it!