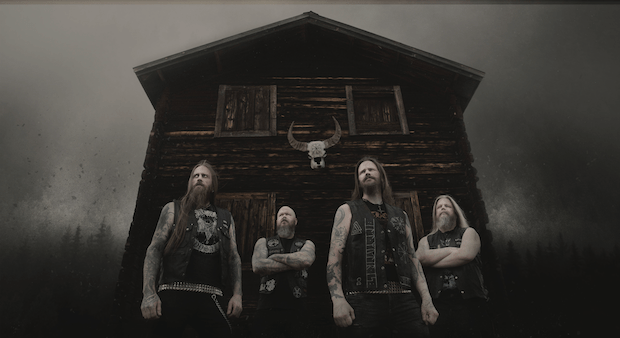 Album Review: Ereb Altor - Vargtimman
Reviewed by Richard Oliver
Ereb Altor pick up pretty much straight where they left off with their ninth full length album Vargtimman. Following on from last year's E.P. Eldens Boning, the Swedish viking metal band have forged another album full of epic, rousing anthems full of atmosphere and ferocity whilst continuing to pay tribute to the legacy left by Bathory and the late great Quorthon.
The songs on Vargtimman vary from epic and atmospheric to gritty and aggressive. Songs such as I Have The Sky, Fenris and Alvablot are rousing anthems full of atmosphere and emotion with some absolutely fantastic clean vocals.
On the other side of the band's sound are songs such as Rise Of The Destroyer and Den Dighra Döden which lean far more to the bands black metal influences with a far darker and aggressive tone and a heavier reliance on harsh vocals. Additionally you get songs such as Ner I Mörkret and the title track that seamlessly mix the two sides of the band's sound together with black metal ferocity and huge epic melodies combining together in unstoppable force.
Ereb Altor are a rare example of a band who in nearly twenty years of existence have managed to avoid dropping a dud album. Vargtimman is another strong and solid album for the band that plays to all their strengths. It is full of epic atmosphere as well as darkness, melancholy and emotion and manages to balance a fine line of melody and aggression. If you like Norse mythology in your metal but without the gimmicks then Ereb Altor are seriously a band that you should check out and Vargtimman is as good a starting point as any.