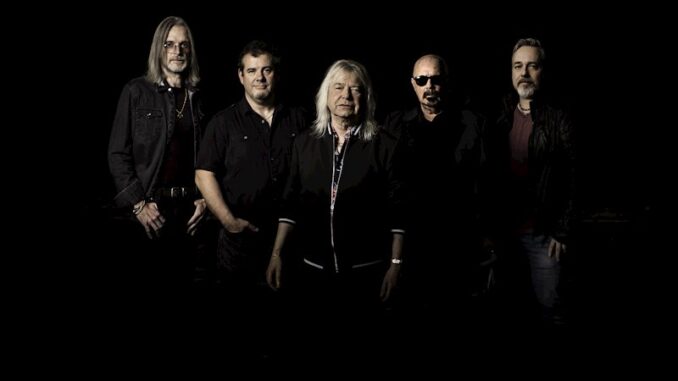 Album Review: Magnum - The Monster Roars
Reviewed by Paul Hutchings
For a band who formed in 1972 and whose first album, Kingdom of Madness was released in 1978, to be releasing their 22nd studio album in 2022 is some achievement. To be releasing an album that stands amongst their best is even more amazing. But then, we are talking about Magnum, the Midlands hard rock legends whose output in the past decade has been of consistently high quality. Magnum may still be best known for their 1980s music, especially the seminal 'On a Storyteller's Night', but their recent releases have contained more grit and hard-edged songs laced with their trademark melody, hooks, and Bob Catley's distinctive vocals.
At an hour in length, this is an album that must contain enough killer songs to maintain interest. Sure, the band's hardcore fanbase will lap it up, but musical integrity has always been of key importance to Catley and main songwriter and partner in music, Tony Clarkin. It's unsurprising that 'The Monster Roars' delivers amply on every level.
The title track opens the album, with Catley pushing his voice alongside the keyboards of Rick Benton before the riff kicks in and the song builds. It's an epic beginning, with Catley on fine form. Dark and brooding, the overall feel is a bit different to recent albums that have opened with more up-tempo songs. 'The Monster Roars' soon provides the bouncing riff that Clarkin's writing has always leant towards, and with symphonic elements straining to join in, the pomp that only Magnum can bring is soon flowing.
Magnum have suffered like most musicians through the past two years, with cancelled shows and restrictions impacting on their ability to work together but this is an album which demonstrates why Magnum have such resilience and longevity. 'Remember' is a classic, the combination of keyboards and Catley's voice anchoring another song that builds dramatically. Clarkin's guitar playing has always been underrated in my opinion, and he often defers to the keyboards in his writing. And yet, his deft touches throughout the album show that less is often more, as the guitar work is sublime, the flashes of steel underpinning Benton's more prominent key work.
This is also the second album on which Dennis Ward has participated, and as well as his assured bass work that links with drummer Lee Morris to form a concrete foundation which allows the band their creative freedom, Ward also provides excellent backing vocals which will be a huge asset when Magnum get back out on the road in the Spring.
'I Won't Let You Down' demands such vocals. A pleasing, melodic piece with some stirring string effects that give the song depth and body, it's a song that should please the Magnum faithful whilst attracting new fans even at this stage in their career. It may be more pop-rock than hard rock but when this band deliver such songs, who really cares?
With Clarkin and Catley both in their mid-seventies, 'The Present Not the Past' with its catchy hook is a defiant challenge which reminds the reaper that there is still plenty of life in this band yet. An amazing brass section adds pizazz and panache to the vibrant 'No Steppin' Stones', and there is a punchy vibe to 'That Freedom Word', another track that might just be a reflection on current times. As Clarkin has said "This album is more about social subjects, including political issues."
Of course, no Magnum album would be complete without at least one ballad, and it duly arrives in the shape of 'Walk the Silent Hours'. It's a beautiful piece, Catley's performance one of the highlights of the whole album. There may be the odd croak, but his voice remains integral to the Magnum sound and here he sounds as fabulous as he ever has.
'The Monster Roars' is another quality release. Filled with solid rock songs that flick between light and shade, it's an hour that allows you to savour each song and yet doesn't drag. Throw in a change in style on the cover, with a photograph by Rob Barrow, brother of the band's former bassist Al, and a couple of bonus tracks in the box sets, and you have an album that even this early in the year may well feature in my end of year list.