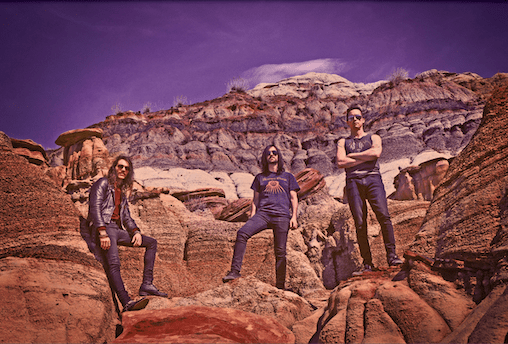 E.P. Review: Kontact - First Contact
Reviewed by Sam Jones
Described in the press release as a mix of 80's Judas Priest and 90's Voivod, 'First Contact' the debut 5 track E.P. of Canada's Kontact, this alone was enough to pique my interest.
Opener 'Ancient Malice' is a fairly conventional track, the riffs have a slightly 'other-worldly' feel to them and certain parts are a bit more 'experimental' but on the whole this is more Priest than Voivod, still pretty enjoyable though. Second track 'Call of the Pyramid' drives along on a relentless beat, the drum patterns of drummer '12 Z' are impressive to say the least, and really lift the song to another level, especially the later half where the band picks up the pace. 'The Devil in Iron' is a slower burner, driven by chunky bass lines, and sporadic bursts of lead guitar.The track builds with stalking menace into a thrilling instrumental coda and stellar solo.
'Fieldz the Sunshrine' is a cover by an old prog band Sacred Blade (yes I have no idea who they are either) but the cover fits in well with the feel of the rest of the E.P., in fact it's galloping riffing and structure, remind me of early Megadeth, until the spacey mid-section that is. Finishing the release is lead single 'Heaven's Gate' and is probably the most commercial of the songs on offer and finishes the record on a strong note.
Overall this is a cool collection of tracks, I'm not sure the initial description is entirely accurate, although there are definitely elements of both bands mentioned, in fact it probably sells Kontact a bit short as they are more than just a gimmick. From what is on offer on this debut release, I'll certainly be looking out for future material, and it's definitely worth spending the 25 minute running time to check it out.