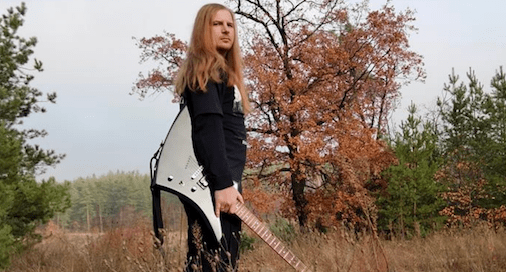 Album Review: Omhosten - Music of the Great Beyond
Reviewed by Paul Hutchings
Finding information about this Ukrainian black metal outfit was a challenge. From what I can glean, Omhosten comprises Stan Skrebniev, guitar, songwriter, bass and vocals, Yuri Kononov, drums, Alexey Sidorenko (Demonologist) lyrics and session guitarist Nikolay Nimmerzet Kushnir who also contributes some vocals. The band is linked to Anvil Records.
''Music of the Great Beyond' is 52 minutes of raw black metal that transports the listener back to the early nineties. It's all tremolo riffing, blasting drumming and croaking vocals and as a result needs something a little extra to make it stand apart from the many bands that continue to plough this genre furrow as well as those who stood as the innovators of the scene over three decades ago.
The difficulty when listening to the likes of 'Will I be Damned by All of the Gods' and 'Cold Rain Will Come' is that there is absolutely nothing new or original on offer. If you want to listen to early Bathory or Darkthrone, then go and listen to those bands. As much as Omhosten put the effort in, this is never going to be anything more than an also ran in the black metal steeplechase. It may be played in the way the old gods demand, but the listening experience doesn't provide much more enjoyment. Of course, misanthropic black metal isn't written to bring joy to the listener and the themes of misery, death and darkness all permeate here. With a resolutely low-fi production quality, Omhosten prove themselves as competent deliverers and standard bearers for a genre that only briefly flickers these days.
I'm sure that there are trve cvlt fans who will absorb this with great enthusiasm. For me, it's just a bit dated and repetitive.