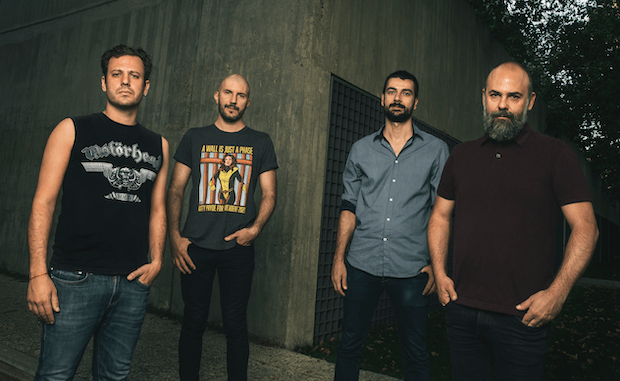 Album Review: Toundra - Hex
Reviewed by Robbie Maguire
The beaming, escalating brightness of 'El Odio Parte I' (Hatred Part 1) is maybe In contrast to the central theme soaring through this sweeping in depth three part song that opens 'Hex'. Whilst hatred as an impetus for creative endeavours can be ever so fruitful to be able to produce the enriching, joyously uplifting and stimulating music that Spanish quartet Toundra have achieved here is a miraculous feat. For this engrossing intro to 'Hex' is nothing short of sublime. Transportive in its ability to whisk you away but equally restorative. As with post rock you can feel the song taking shape as you hear it and this is no exception. Unfolding quite mesmerically with a patient build up, a brooding aggression is apparent. Coarse guitars crash violently yet always there seems a natural flow to the music which radiates through. The commanding riffs are the perfect foil to the higher pitched, ascending notes that loop around buoyantly.
At times an air of relaxed simplicity flows through the slow burning soundscapes. Yet there is a definite ease with which Toundra twist and interweave their creative vision. Drawing on all manner of influences it's apparent they have a clear respect and understanding of doom, progressive music and above all the atmospheric and emotion generating qualities of post rock.
Rhythmic, stabbing riffs crash and coalesce with the delicately crafted, spacious yet intricate guitar motifs all over 'Hex'. It makes for a refreshing and stimulating listen. A listen that has a tangible hold on you. 'El Odio Parte III' pivots adeptly and is a radiant, shimmering soundscape with such tenacity and a progressive vibrancy whilst yielding the very emotional gratification one comes to hope for from well-crafted post rock.
The earworm melodies are abundant ensuring you can't help but be moved as a continual satisfying push and pull impacts on you. Bright guitar lines wash over and Toundras ability to be anthemic without the need for vocals or conventional structures is constantly reinforced. Mixing melody in amongst the crashing riffs it's by no accident that they can elevate their songs to heightened places of sheer joy. You are fully aware that this is a well-travelled path however when the path is navigated so skilfully and dramatically as it is here it makes for a captivating listen. The saxophone dancing joyously through 'Watt' is as genius as it is enjoyable, adding a driving progressiveness to this expansive gift of a song. Toundra master the patient build up trick and utilise clearly signposted post rock flourishes yet it always feels refreshing, unique and wholly immersive. As dynamics shift on the beautifully clean and airy closer 'Fin' the contemplative delicate piano is sublime adding yet more texture to an album where nothing feels forced or rushed.
Hatred is a destructive, vicious beast and the inspiration running through much of 'Hex'. However, over the escalating seven songs and 45 minutes Toundra ably build and reinforce moments of positivity and hope with a beaming radiance illuminating the songs. Finding so much to unwrap in such a short space of time but which leaves a much longer lasting positive impression is the real gift Toundra have bestowed with 'Hex'.
Photo credit: Benny Stucker