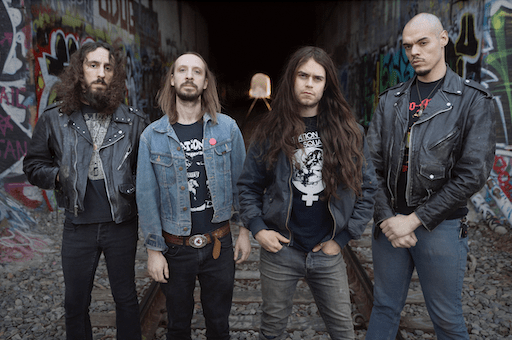 Single Review: Mantic Ritual - Crusader
Reviewed by Sam Jones
Let's inspect what is likely my first, new release of the new year when it comes to Thrash metal. Despite this being a Single, Mantic Ritual are by no means a new band. Formed way back in 2005 originally under the name of Meltdown they kept it until 2008, where they changed it to what we today regard them as: Mantic Ritual. A full length album soon released in 2009 titled Executioner but soon after, around 2012 the band split apart followed by a brief attempt to restart things in 2013 which fizzled out. However come 2020, the band's gears were once more roaring back into life and at last we've got this new release from the band, their first in a very long time. So, the question is this: What can we expect to hear from Mantic Ritual? This will be the first time the vast majority of people will have listened to these guys yet, we need to bare in mind the band's emphasis on this release too. This is a brand new chapter for them, a second chance to make an impact. So let's take a listen to what Crusader can offer us in this rejuvenation of the band's efforts.
While there's something to be said in regards to how the band lay out their riffs and songwriting, I particularly enjoyed how crisp and refined their main guitar tone comes across as. This isn't a guitar attack that's looking to leave you a quivering and senseless husk. The first few seconds are evidence enough: the band want you to feel very at home and along for the ride while their sound is on display for you. It's honestly quite refreshing where we've got a thrash sound that's looking to hook you in like a backstreet dealer as opposed to a brawling strongman looking to physically cripple you. As a result the guitar work uses its slicing tone to create this train of sound that gives it its hypnotising quality. The band effectively lull you in before hitting you with their strongest punches. As a work of thrash goes, it's a subtle but noticeable performance.
It's an almost proto-thrash sound, reminiscent to when NWOBHM was just beginning to shake things up more aggressively in the veins of Venom, Motörhead etc. As you're listening to the band play they make it very easy for you to follow along to their songwriting, sure the band are playing at faster speeds and greater intensifies than your conventional metal band but they never allow their moniker of Thrash to take things a step beyond what the rudimentary metal listener may be capable of following. Everything about the songwriting here is accentuated to the point that it's impossible for one to lose their place or a particular riff or lick. The soloing is segmented really nicely so we don't miss a beat but not so completely that it feels overly organised and neat; the strength is always there without the need to jack the power to 11 all the time. Mantic Ritual are a unique case whereby they can deliver swathes of power your way and still keep you comfortably relaxed whilst listening.
I really enjoyed the cover of Mercyful Fate's Black Funeral too. Granted that this is just a Single release and maybe some people would have preferred the band to release an additional original song but, through this Cover the band demonstrate their capacity for a diverse performance. Mercyful Fate, and their leading man King Diamond, are a very specific taste and there are many who are not fans of their work however it's good that Mantic Ritual throw their efforts in to showcase what else they can bring aside from conventional sounding thrash. While few could ever duplicate King Diamond's vocals, Mantic Ritual's frontman demonstrates that he's clearly got quality pipes on him as he's able to replicate, at the very least, the aesthetic and atmosphere that a band like Mercyful Fate made their own. Through this Single, the band show they're ready to make their return and that audiences should keep their ears open for what Mantic Ritual bring their way; it may not always be the up and front thrash they'll be expecting.
In conclusion, this was a different but entertaining listen. We still need to remember that this is only a Single with a Cover contained within as well, but even so I really liked what Mantic Ritual gave me here. This is effectively a rebirth of the band given it's the first material they've released since 2009, it's a new chapter for them and it's more than likely their opportunity to start showing fans, new and old alike, what they can do and bring to the table. I for one am optimistic, regarding their ability they showcased their talents for thrash whereby they understand how to use the brakes from time to time but also branching out into more cerebral and quirkier, aesthetic regions; their Cover of the Mercyful Fate piece is evidence of this. So yeah, I enjoyed this and I do reckon it's worth checking out even if only for the one original track alone.