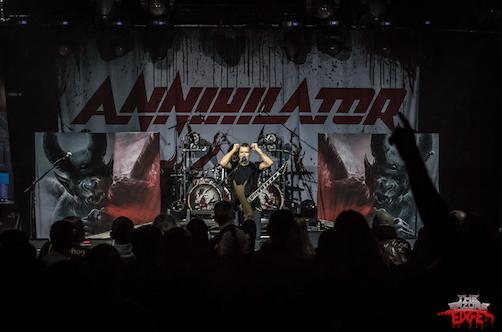 Album Review: Annihilator - Metal II
Reviewed by Gareth Pugh
It's not exactly a secret that I'm a bit of an Annihilator fanboy, ever since first hearing those sublime notes of 'Crystal Ann' back in 1989 I was smitten. Jeff and Co have rarely let me down both on record or live. I say rarely, there have been two specific exceptions. Now the first time I was a bit disappointed was with sixth album 'Remains', effectively a Jeff solo album, but unlike the previous two, 'King of the Kill' and 'Refresh the Demon' where Randy Black (now with Destruction) provided drums, Jeff turned to an 80's drum machine! The results were interesting to say the least, but still contained a few great tracks. The next time I was a bit underwhelmed was in 2007, and the release of the original 'Metal'. I remember driving to Shrewsbury to get this on the day of release, a 70-mile round trip, let's say the drive back was one of frustration. Not that it was a terrible album but it also wasn't great, and no number of guest solos (the album features contributions from; Willie Adler, Steve "Lips" Kudlow, Anders Björler, and many more) was ever going to paper over the cracks.
So now we come to 'Metal II', the first in a huge project that will see something like 16 of Annihilator's not inconsiderable back catalogue re-released over the next year or so. But this isn't the normal remix, remaster, repackage and reissue job, oh no this will see the vocals and drums being reworked completely by no other than the legend Dave Lombardo in the drum stool, and vocals re-cut by Canadian singer Stu Block (Into Eternity, ex-Iced Earth).
My reaction on hearing of this endeavour was one of genuine excitement and anticipation, although when I found out 'Metal' was going to be the first album to receive this treatment it was a bit of a surprise.
So onto the release, the first thing I noticed before even pressing play is the track list which has had a complete overhaul. The running order is now entirely different and one track has disappeared completely 'Operation Annihilation' and has been replaced by what was originally a Japanese only bonus track. Opening the album, we now have 'Chasing the High' (it previously closed the album out) and it's a high tempo, aggressive thrash track with Jeff's trademark sound all over it. The trouble is, he's pretty much written at least half of it before, the opening riff is basically the opening riff to 'Ultramotion' and the cool creepy melodies in the breakdown have been used on numerous tracks in the past. It's a solid track, one my favourite here, and the new mix by Mike Fraser (AC/DC, Van Halen), certainly adds a new vigour to the song, and Lombardo and Block add a bit more flavour.
'Downright Dominate' is a wannabe Pantera track with all the fake aggression and groove that it necessitates, sadly not even a fantastic guest solo from Alexi Laiho (RIP) can save it. In fact, that's always been the issue with this release, the music was always a bit too "groove" for my liking. Take 'Army of One' with it's quite frankly embarrassing lyrics, consisting of band names and a clumsy chorus, is another Pantera worship style track. 'Couple Suicide' was always the odd one out in this collection, originally an emo-style rocker duet featuring Danko Jones and Angela Gossow, now Stu adds his distinctive baritone into the mix to great effect. I've always quite like this one, it's original, catchy and a bit on the quirky side, and this new version is even better.
The old bonus track 'Heavy Metal Maniac' (featuring Exciter members Dan Beehler & Allan Johnson) is a fairly faithful run through of the old Exciter classic and is a good addition to the track list. As is the addition of the classic 'Romeo Delight' from Jeff's favourite band, Van Halen, originally this was on the self-titled album, which came out in 2010 - three years after the original release of 'Metal', and the band let loose and have some real fun, but neither song comes close to the originals.
Of the others 'Detonation' might as well be a cover as it borrows a riff and the verse melody line from 'Children of the Grave'. 'Clown Parade' is probably the strongest track here, originally the opening track, but ironically here it's Block's least impressive performance on the whole record. 'Haunted' is meant to be a nine minute epic but comes across as a smorgasbord of cutting room floor riffs and ideas. At least the album ends on a reasonable high with the slightly experimental 'Kicked'.
So, to conclude, is 'Metal II' worth a listen? If you've never heard the original, then yes, it's worth at least a cursory glance. If you own or are familiar with the original album, is there enough here to warrant purchasing it again. Personally, I don't think so. Whatever upgrade, leveling-up or however you want to dress up this 'new' release as, for this particular album it was never really going to be enough, as the original material just wasn't strong enough in the first place, there's a few good tracks. Yes this is a superior version to the original, the drums and vocals are definitely an improvement, as is the overall punchy sound. But that was never really the problem, it was the lacklustre material, try before you buy on your favoured streaming service is my advice. Overall, an odd choice for the first album in this massive update project and although I'm still excited by it, in my eyes it's off to a bit of a stuttering start.