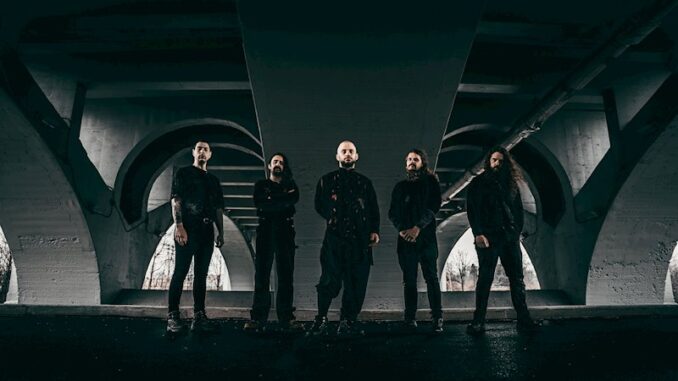 Album Review: Rivers of Nihil - The Work
Reviewed by Paul Hutchings
There's no doubt that the music of Pennsylvanian outfit Rivers of Nihil transcends genres. Whilst the band sit mainly in the technical death metal camp, the cerebral challenges, and dramatic sonic soundscapes that the band create make listening to their music intoxicating, as well as challenging and at times even a little uncomfortable.
Following on from 2018's 'Where Owls Know My Name', this 64-minute opus once more incorporates as wide a range of instruments as previous albums. Within the first three songs we've been coerced by the piano led intro to 'The Tower (Theme from 'The Work')' with subtle layered saxophone (courtesy of friend Zach Strouse) and semi-choral backing vocals that relay with explosive and aggressive extremities. There are raging blastbeats and thrashing chaos as well as extreme abstract and diverse passages during 'Dreaming Black Clockwork'. It's uncompromising, relentless, and harrowing. It's also beautifully counterbalanced with songs such as the emotionally charged 'Wait', with a softer tempo and the versatility of vocalist Jake Dieffenbach to the fore. There is an almost shoegaze feel at times.
Much of this record is pleasantly mellow in temperament and whilst I wasn't hugely familiar with the band's back catalogue I know of 'Owls' and the band's reputation for driving outside of the lines. They certainly bring that to this record. 'Focus' sees Lyricist and bassist Adam Biggs consider a relationship with medication and drugs, diving back to his early ADHD prescriptions. It's a massive track, with a huge sound and irregular time changes, despite its relatively short length in comparison to other tracks.
Rivers of Nihil began writing on the 'Owls' tour back in 2018, so although it's taken some time to come to fruition, the upside is a carefully crafted and sensibly approached record that demonstrates the band's desire to avoid pigeon holing. They do that with ease, the gorgeous delicacy of 'Maybe One Day' demonstrating that if there is a band who can avoid a label, it is Rivers of Nihil. There are metal moments a plenty, but this is a band who defy the rule book.
'The Work' is a record that takes time to absorb. I will need to spend longer with it to get deeply acquainted – something that I will be doing. It's difficult to appreciate the intensity of 'Episode', the darkness of 'The Void from Which No Sound Escape's or the mastery of the 11 minute plus closing song, 'Terrestria IV: Work' in a mere couple of sittings. There's a complexity which demands your undivided attention to appreciate the sublime musicality. An album that is likely to hit my top five of the year, this is something that every music lover needs to listen to.