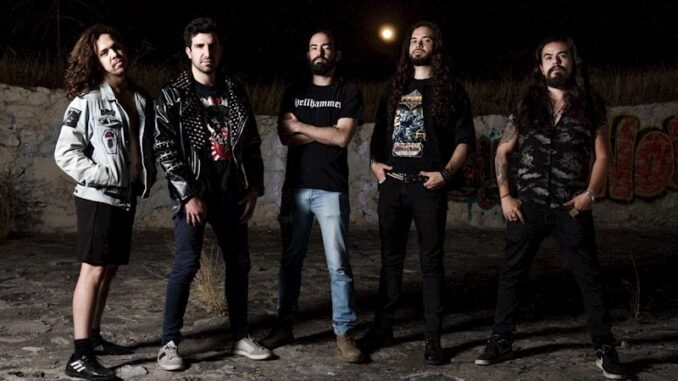 Album Review: Evil Shade - Vandals
Reviewed by Paul Hutchings
I'm not sure if shade can be evil. In extreme heat it is very welcome. For someone like me who struggles in heat above 25 degrees, there is nothing more delicious that getting out of the sun to cool the bones. Although I have my doubts about the band name, there's probably eviler in the shade in Santiago de Querétaro, Mexico, where this speed metal ball of chaos originates.
Having lost a band member halfway through crafting their debut album, they made the decision to produce a mini release. The result is 'Vandals', a 25 minute five-track record. It takes mere seconds to identify where the band's roots lie, and although the members are drawn from a background of death and speed metal, this is deep into Raven, Helloween and Running Wild territory.
Once again it's the jarring vocals that really cause me problems. Frontman Diego Rojas has a style that will either be embraced or have you reaching for the off button. It was tolerable though, mainly due to the power that erupted from the rest of the band, who can certainly crank out a tune. The six-minute plus title track kicks things off with a brooding intro before all defences crack and it's all systems go. This is blisteringly fast stuff, frenzied riffs and Rojas' high scream suggest things are on the right level, and to start with he's okay but his screeching enunciation soon turns into nails down the blackboard.
The rest of the album follows a similar pattern. The explosive start of 'Wicked Crusades' has a high-pitched scream to start before the rest of the band launch into more frantic riffing. The vocals do slowly ease in their irritating style, but they still pinch. Musically there is some excellent lead guitar work whilst the rhythm section locks the pace at 'fast' and rarely takes a breath.
Its thundering bass combined with searing lead work on 'Beneath the Pentagram', whilst there's a more traditional heavy metal style to the penultimate song, 'Shade of Evil'. Try and ignore the vocals and it's a decent track. Unfortunately, the vocals return to irritate like a wasp at a summer picnic and they are ten times more frustrating on this track.
It's left to a classic cover to conclude this mini-album and Evil Shade at least finish in style with a solid cover of Running Wild's 'Black Demon'.
Sadly, this isn't a release I'm likely to return to. The band try hard and musically it's decent if unspectacular. The band can certainly play. It's the vocals that kill me on this release. And as I've said before, if you can't get past the singing, it's very difficult to focus on those playing those instruments. Maybe one to pass on by … or give it a go out of curiosity.