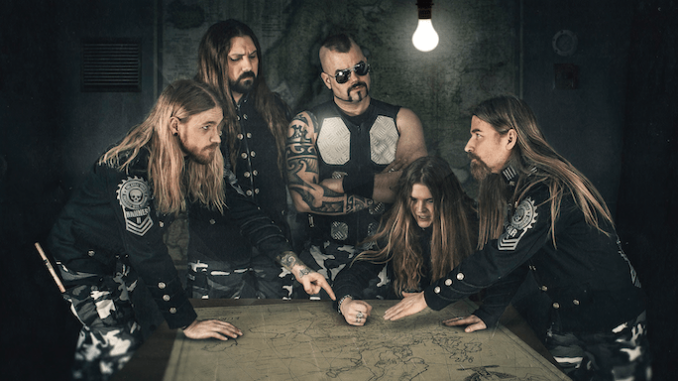 Album Review: Sabaton - The War To End All Wars
Reviewed by Paul Hutchings
My first encounter with Sabaton came at the Slade Rooms in Wolverhampton in October 2010. Supported by Alestorm, I'd travelled with my three lads who are all huge fans to see the Swedes in a 400-capacity sweaty club. It was a fun gig, with the band's bombastic songs from their early albums containing enough riffs to keep me happy, the pits flowing and the heads banging. The following year they were supported by an unknown band called Ghost at the Koko in London, a gig I didn't go to, but the boys did. How a decade changes things with both bands (we'll skip over Alestorm quickly) and both are now capable of headlining arenas and festivals.
I think the last album I enjoyed by the Swedes was 'Coat of Arms' around the same time as that first gig. Of course, I've listened to their other albums, and I've seen them several times since as well. Their headline appearance in 2019's Bloodstock was a huge show, with massive tank, repetitious cabaret elements around the playing of 'Swedish Pagans' and cheesy as anything. Of course, the crowd loved it and there was the bonus that I found it no problem getting a beer at the bar as a result!
Sabaton's schtick is based on stories of war. Pick a war, any war, and they have probably written a song about it. Album number ten sees them return to WWI, the Great War and as the album title says, the war to end all wars. Ha! Given the events unfolding in Ukraine as I type this the irony isn't lost.
Musically, I think most people who have heard even one Sabaton song would have a fair idea as to what was coming. 11 songs that focus on stories from 1914-18, all delivered in that light power metal style which has become their instantly recognisable sound, written in a way that allows their legion of fans to singalong at the tops of their voices. Accessible, memorable with more hooks than a pirate convention and with Joakim Brodén's distinctive baritone combined with harmonies on every chorus.
Is that their strength? All their music to me seems interchangeable. It feels like they've written about five songs and then just change them around every so often. I may be overcritical, after all, if it ain't broke you don't fix it and hell, it hasn't done them any harm in the long run has it? I've never sold-out Wembley Arena have I!
The stories that Sabaton tell are interesting. This is a band with its own history YouTube channel. There are songs about heroes, tales of epic deeds and real-life drama, and one feels slightly harsh even being critical about such subject matter.
The album opens with the track 'Sarajevo' which has a narration which sounds like it has been lifted from a junior school educational video. It sets the vibe and serves merely as an introduction to the album. At least 'Stormtroopers' has a bit of pace to it, rattling along. It's semi-Accept in feel, especially the mid-point element. 'Dreadnought' is a similar song, the kind you would imagine the band can write in about five minutes.
Rather than a concept album, as Sabaton have done in the past, The War to' End All Wars' is a collection of tales. 'The Unkillable Soldier' is the story of Sir Adrian Carton De Wiart, who survived gunshots to his left eye, skull, hip, leg, stomach, ankle and ear, and numerous plane crashes. 'Hellfighters' is dedicated to the famous 369th regiment made up primarily of African American and Puerto Rican soldiers. Neither song is remarkable, but the subject matter is at least of interest.
To be fair, Sabaton do what they do very well. If you enjoy their light metal approach, then the likes of 'Lady of the Dark', the story of Milunka Savić, the Serbian woman who took her brother's place in the army, will please you. The heaviest track on the album is 'The Valley of Death', one of only a couple to pique my interest as I listened thanks to a hugely upbeat tempo and slightly thicker riffs. As I said, it' a winning formula and will no doubt be acclaimed as one of the metal albums of the year in many quarters.
As the world once again teeters on the brink of conflict, the timing of an album which recounts some of the most horrific times in all history seems somewhat ironic. If this album does one thing, it clearly shows that man cannot learn from history and its mistakes: a sobering thought indeed.
If you like Sabaton, then 'The War to End All Wars' will work for you. It's well produced, solidly performed, and comes in enough variations and packages to sate even the hungriest collector.