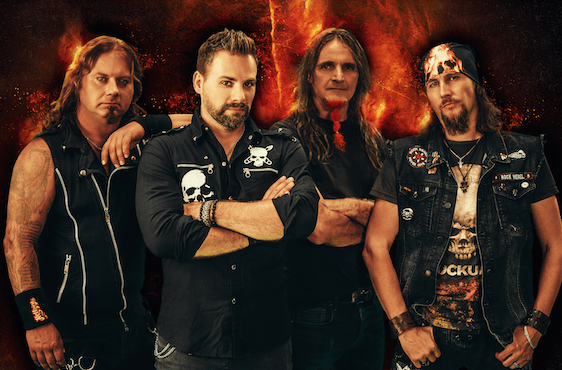 Album Review: Serious Black - Vengeance is Mine
Reviewed by Paul Hutchings
Sometimes badged as a supergroup, Serious Black are certainly a European power metal force. With a line-up that has changed several times since their formation in 2014, the latest ensemble sees founder member Mario Lochert, long time guitarists Dominik Sebastian and Bob Katsionis, drummer Rami Ali and new singer Nikola Mijic deliver the band's sixth album, a powerfully anthemic collection of melodic hard rockers delivered in typical bombastic fashion with plenty of solid riffs, harmonious vocals and ample melodies.
This time around Lochert has opened up lyrically, providing emotional insights with more personal reflections in the lyrics and compositions. The band have been drip feeding singles from the album since September 2021 when 'The Story' was released, and another three releases have followed, the final one being 'Out of the Ashes' in January.
Whilst the music is solidly played European power metal, it's the vocal performance of Mijic that is one of the undoubted highlights on an album that is probably about ten minutes too long. That minor gripe aside, Mijic proves more than adequate as a replacement of for outgoing singer Urban Breed, who left during the writing process. Indeed, his performance suggests he has been in post much longer. He does have a decent history behind him, with recent stints with Eden's Curse amongst others providing good experience. Katsionis remains officially listed as a member of the band, and his involvement in the writing included keyboards whilst Henning Basse also helped with some melodies on several songs.
'Vengeance is Mine' opens in fine style, with a triumphant double via 'Rock with Us Tonight' and 'Out of the Ashes' both arms aloft songs that will get audiences excited. There are a few twists and turns on the album, the darker, brooding feel of 'Soul Divider' contrasts with the lighter, ballad-esque tones of 'Ray of Light'. The melodies dig deep, hanging in the memory long after the album has finished. Ample hooks and big movements combined with some delightful backing vocals thanks to Anna Likunic.
Like much of power metal, the writing follows a recognised schematic. The riffs are heavy, the bass and drums supporting the overall flow of the songs which race along with a passion and enthusiasm that is infectious. These are songs written to singalong to. One listen to 'Tonight, I'm Ready to Fight' and 'Soldiers of Eternal Light' and you should get the picture. It's fun, enjoyable to listen to and very much in keeping with other bands of the same genre. Sure, the songs may be a little repetitive but that's much the same for any genre.
If you don't like this style of music, then 'Vengeance is Mine' won't change your mind one bit. It's polished, well produced, excellently played with big choruses that swing along. But if you do enjoy the kind of European metal that Serious Black sit alongside, the chances are that you'll have some fun whilst letting this assault the ears.