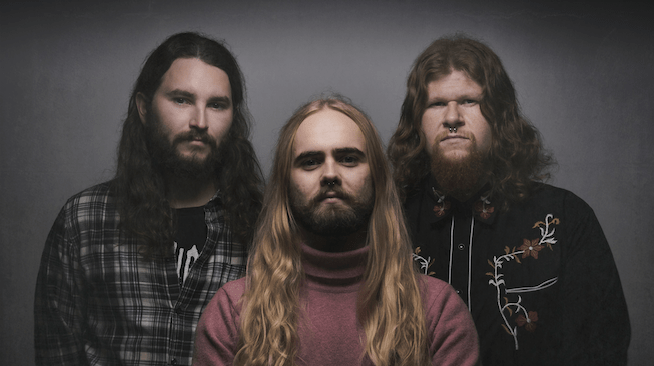 E.P. Review: Volcanova - Cosmic Bullshit
Reviewed by Paul Hutchings
Big fuzzy riffs, pulsing bass and rampant drums. Yep, it's stoner rock alright, this time from Iceland in the form of three-piece Volcanova. This six-track E.P. follows the band's debut full-length 'Radical Waves' which was released in 2020. 26 minutes of everything you'd want from a band who should have been in the UK next month as support to The Vintage Caravan.
Opener 'Desolation' sees the band thunder, the trio utilising their ability to harmonise to bring an interesting vocal dimension which is utterly enjoyable. There are heavy riffs a plenty, especially on second track 'End of Time' which starts slowly before accelerating to a much more muscular track, which still hooks in the stoner vibe whilst also ripping out a cracker of a solo. It's almost live, such is the feel of the music.
Whilst it's predominantly stoner in vibe, there's much more to this band. The short, sharp punk fused blast of 'No Wheels' holds the centre ground, and at under three minutes it fair rattles along. The punchy feel doesn't slow on 'Lost Spot', a seven-minute track that rattles along with a groove and vibe that is impossible to avoid dancing along to. The combination of melodic riffs with a heavy edge, thunderous bass lines and tight drumming provides some of the thickest soundscapes you'll hear this year. The space rock psychedelia that enters the fray after about three minutes of 'Lost Spot' provides yet more variation on an E.P. that is comfortingly familiar and yet new and exciting.
And the fun doesn't stop there. The prime riff for 'Salem' will be a monster in the live arena, and if you don't end up singing along to this one then you clearly have no soul. It's a track that isn't particularly original, but it is catchy, the harmonies are great and it's a song that demands a beer in hand and the other hand punching the air with joy. It's that good. And that leads to the finale, the thick heavy riff of 'Gold Coast' which concludes a fine E.P. in robust style. Hell, there's even cowbell included and no-one ever said "no cowbell did they?"
This is an E.P. for those who want to allow the mind to wander, for those who like the psychedelic trip or more importantly, for those who appreciate good music. It's a smasher of an E.P. I'm off to hunt down their debut release.